Their Meeting Last Night Was Kind of Cute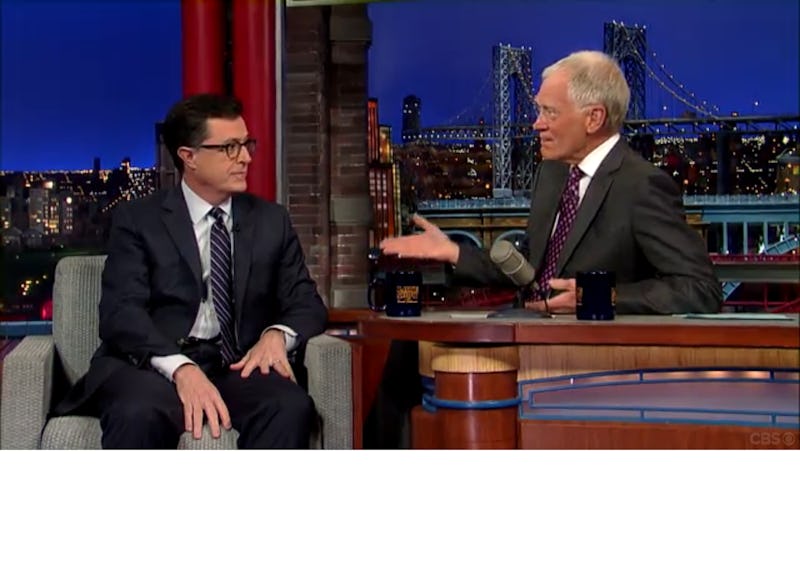 On Tuesday night, Stephen Colbert went on The Late Show for the first time since the announcement that he will be replacing David Letterman. Before this encounter, there was wild speculation about how funny or horrid Stephen Colbert would be without his Colbert Report persona, "Stephen Colbert." For the most part, he seemed to keep some of his characteristic biting wit, while simultaneously tricking us all into thinking that Colbert could be an amiable, reasonable guy underneath all the satire.
Letterman knew the importance of this meeting of outgoing and incoming, but wrote it off in one of his classic monologue gaffes, saying that Colbert "just dropped by to sign the lease." But as soon as the interview began, it was clear that this was as much a ceremony as it was a regularly scheduled talk show segment. In a symbolic gesture, Colbert talked about the times he almost interned (in 1983) and wrote (in 1997) for The Late Show, clearly framing his takeover as an inevitable action of fate. He also read his own Top 10, the "Top 10 Cocktails for Santa" he wrote in 1997, which ended with the "Silent Night Train."
Thank goodness Colbert's comedy has moved past the '90s.
Even though Colbert brought his own blue cards (cue gasps), Letterman let him off pretty easy. They chatted amicably about their kids, and even took a mid-show selfie after, of course, Dave confirmed that it's "still what people do." And Letterman even reached deep into his back catalog and asked Colbert about his sailboat races, which he mentioned in an interview on The Late Show in 2005, when he was promoting the first episode of The Colbert Report. Ah, the memories.
Colbert lacked some of the bite that usually characterizes his antagonistic Report persona, either because he's genuinely a nice guy, or because he loves Dave too much to berate or nag him. Even without "Stephen," Colbert served up a few good jokes, and many great expressive eyebrow moments.
So even if "Stephen Colbert" will soon be dead, Stephen Colbert is going to be just fine. Let's all take a deep breath and giggle at the number times he said "boob" in one analogy.
Image: CBS