What Does Larry Caputo Do for a Living?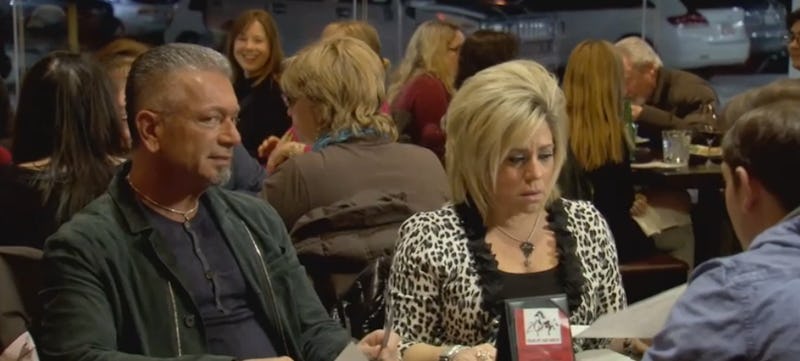 Theresa Caputo may not be the only one in the family to make a living by working with the dead. On Sunday's episode, Long Island Medium Theresa's husband Larry Caputo wants to start a business where people can have their loved ones' ashes dyed and turned into sand art. Yes, really.
It doesn't look like Larry's new venture has taken off quite yet, most likely because it sounds like Theresa won't be too thrilled with the idea in the upcoming episode. But if Larry does finally decide to make his ash art a reality, he's got years of entrepreneurial experience to help guide him. In the meantime, while Theresa is out communicating with the deceased, what does Larry do for a living?
We first met Larry when Long Island Medium premiered back in 2011, and he was already retired at 55, having recently sold his imported food business. Early in season one, Larry made it his job to drive Theresa crazy just by staying home all day. We also saw him cleaning up some choppers at a local motorcycle shop, but it's not clear whether that was for business or pleasure since he does love hogs.
Shortly after this, he decided to create Big Larry Apparel, a clothing company with the goal of combining Larry's "love for tattoo art, motorcycles, and fashion." Larry writes that his own spirituality was "awakened" by his wife, which shows in the T-shirts featuring crosses, the Buddha, and even a drawing of the main man himself (were you expecting someone else?) for those who worship tanning and soul patches. Even the lead singer of Train is a fan of Big Larry.
For the most part, it appears Larry likes to spend most of his days empty-nesting it with Theresa by going to arcades, trading lives for a day, and commissioning a portrait of the duo. You know, the ushe for middle-aged couples. But as we all know, being a reality TV star is enough work in and of itself.
Image: TLC