#TBT Reads: 'Deenie' (and Why We Still Love It)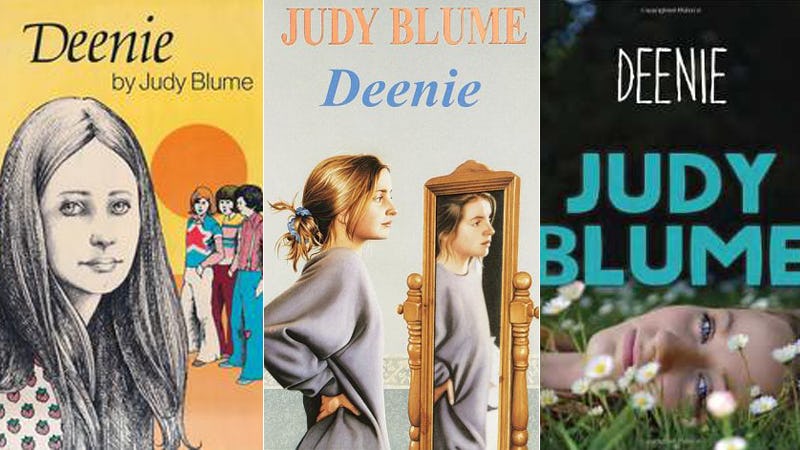 Believe it or not, Judy Blume's Deenie was published in 1973 — a true throwback novel. But I — and I assume most twentysomethings and thirtysomethings — read Deenie when I was in middle school myself, like the titular character. We all know that Judy Blume is one of the greatest writers about the female teenage experience of all time, but what stood out about Deenie in particular?
Blume's novel centers around 13-year-old Wilmadeene "Deenie" Fenner, a model-in-training who is diagnosed with scoliosis and must navigate her family, friends, and crushes with the added burden of a cumbersome back brace.
In the first of this #TBT Reads column, I take a look back at the novel that brought "adolescent idiopathic scoliosis" to our vocabulary and has been one of the most frequently challenged books in the last few decades.
WHAT WAS SO GREAT ABOUT DEENIE?
What wasn't great about Deenie? Judy Blume taught us all, what "adolescent idiopathic scoliosis" was, causing middle school girls everywhere to bend over and touch our toes in the mirror to make sure we wouldn't need a back brace like Deenie. (And, when these scoliosis depictions became outdated, Blume jumped in and added an editor's note to new releases of Deenie directing readers to a website for more information, so she still cares!)
Deenie was an utterly relatable 7th grade heroine. She struggles with her parents, particularly her mother who has dreams of Deenie becoming a model and her older sister Helen becoming a doctor or an engineer. (Helen is the brains, Deenie is the beauty!) She struggles with her appearance and being different, especially when her scoliosis forces her into a back brace. She throws hissy fits (sometimes earned, sometimes not), but she's brave and she loves her best friends. And she, like many of us, stumbles through issues with boys and her own body image.
"That's good," he said, moving one hand down from my shoulder to my chest. I knew he was trying to feel me, same as Steve tried to feel Janet that day at the movies. I also knew that Buddy wasn't feeling anything but my brace, which only made everything worse, so I broke away from him and ran to the door.
This uncomfortable, in-your-head encounter with a first kiss is way more realistic than many YA novels describe. In a similar vein, what I remember most about Deenie is Blume's pitch-perfect description of middle school crushes.
As soon as I hung up the phone rang again. It was Janet."We followed Harvey Grabowsky in Woolworth's," she said."I know. I just talked to Midge.""Did she tell you what he bought?""No...what?'""Three ballpoint pens and a roll of Scotch tape. And once I stood right next to him and touched his shirt sleeve!"I just knew I'd miss out on something great by going to New York.
Seriously, this phone conversation between Deenie and her friend about the coolest guy in school is everything.
While I was focused on the middle school crushes, parents and people who ban books were instead focused on Deenie's portrayal of masturbation. Even Kirkus didn't get Blume's novel when it was released.
Instead of giving Deenie any personality or independent existence beyond her malady, the author throws in the subtopic of masturbation — Deenie likes to touch her "special place" to get "that good feeling," and is relieved when the gym teacher tells the class it's okay — which only makes the story's hygienic slant more pronounced.
"Hygienic slant"? Huh?
This brouhaha over talking about masturbation in a YA novel lead to Deenie being a mainstay on the most frequently challenged book list. Meanwhile, children everywhere are happy Blume has brought this issue to light, so nobody felt so gosh darn ashamed, or weird. Which leads us to the next section:
WHAT DID WE LEARN (AND CAN WE STILL LEARN)?
Judy Blume taught young adults everywhere to be comfortable in your own body and your own skin. It's a lesson we all need to still learn 41 years later.
'That's right,' Mrs. Rappoport told us. 'And it's not a word you should be afraid of. Let's all say it.''Masturbation,' we all said together.
As is the case with most banned books, naysayers are too superficial to look to the issue behind the controversial topic to see what the novel is really saying. And Blume is clearly saying that it's okay to talk about our bodies, that we're normal. Which is why it's so sad that Deenie gets shamed and banned.
By having Deenie go through her own ordeal, Blume is also telling us to be kind to other people. Everyone you know is dealing with their own personal "back brace." For example, Barbara, another girl at Deenie's school, is bullied because of her eczema, even by Deenie, who learns a thing or two when she copes with image troubles.
As I get older, I also see Deenie's mother in a new light. She was difficult and misguided, for sure, and she pigeonholed her two girls into careers so early they didn't have a chance to figure out who they were. But, as an adult, it's easy to see how she got carried away by wanting the best and success for her daughters in a tough world.
"I wanted better for you," she said. "Better than I had for myself. That's what I've always planned for my girls ... is that so wrong?"
Ultimately Deenie becomes a YA novel that can teach us something, even as we enter adulthood or become parents ourselves.
Deenie by Judy Blume, $5, Amazon
IF YOU LOVE DEENIE, TRY READING...
Assuming you've already torn through the entire Judy Blume catalog, you might also enjoy these three, more recent YA novels:
1. The Beginning of Everything by Robin Schneider
Like Deenie, The Beginning of Everything's Ezra suffers a body change that puts all of his plans in jeopardy. Instead of a scoliosis diagnosis, Ezra is in a car accident that shatters his knee, and this completely ruins his athletic career and social life, pitting him at the misfit lunch table. It's a novel that you'll feel down in your core, and it echoes Blume's sentiments on what it means to not live up to people's false expectations of who you are.
2. Accidents of Nature by Harriet McBryde Johnson
Accidents of Nature also uses a physical disability to tell a honest coming-of-age story. Jean is 17 and has cerebral palsy, but she's always seen herself as just "normal," whatever that means. That is, until she goes to camp for disabled teens and her entire worldview is thrown for a loop.
3. Just Listen by Sarah Dessen
Annabel, like Deenie, had a blossoming modeling/acting career in Just Listen after starring in a local TV commercial. But her whole world crashes down when her home life is thrown into shambles and her best friend drops her. Ultimately, the story is about what's going on beneath the surface for everyone in high school, even those that seem like they live a charmed life.