An Official Announcement on 'The Voice'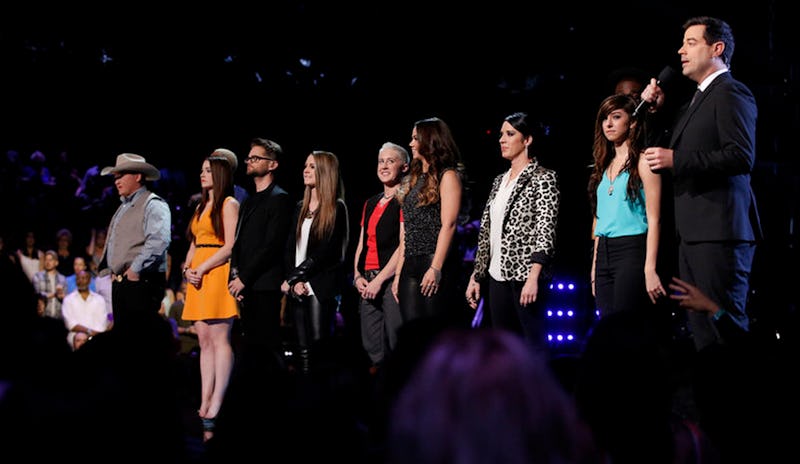 "I want to change the rules," Adam Levine lamented during Tuesday night's episode of The Voice. No, he wasn't proposing they add an "atomic wedgies for anyone and everyone who tweets out personal cell phone numbers" statute. Rather, he wanted to amend the rules in such a way that made it so they didn't have to send any contestants home. I feel that. We've been doing this for how many seasons, Adam? I reckon it never gets any easier, huh?
Before Carson Daly could get down to business and reveal who out of the top 10 would not be advancing, he had some housekeeping to attend to. Namely, an official Voice announcement. There'd been rumblings, but now it's been confirmed by Carson: Next season, Pharrell and Gwen Stefani will be joining the coaching staff. Hot diggity dog!
Tuesday night's bottom three Instant Save singers were Bria Kelly ("Crazy On You"), Tess Boyer ("Who Knew"), and Kat Perkins ("Paris Ooh La La"). The crowd and coaches were really supportive of Bria and Tess, but the crowd and the coaches went APESHIT for Kat.
Like, noticeably so. "I wonder how this is going to play out," said no one. I wished the collective response to the performance would've caused Carson to pull the plug on this week's Instant Save voting and just give Kat the slot.
"Hey, guys?" he might call out to the booth. "Don't bother with the Instant Save. Yeah, no. I think it's safe to assume Kat'd crush the poll anyway, and showing the actual percentages would be kind of harsh to the other singers. I know this is a competition and all, but it's a nice competition. We don't want to be harsh. Anyway, Kat's got this. I mean, did you hear that audience? The whole place was a high-pitched shriek away from throwing their shirts at the stage." Sadly, that was all a fantasy. The Instant Save was a go, the anxiety-inducing chart took over the commercial break yet again, and Kat won with, like, 60 percent of the votes. Oof.
Though Kat was the obvious (and justified) winner, it really, really sucks to see my girls Bria and Tess go.
I would like to end on a less bittersweet note. Hope that's cool.
The highlight of the night:
During the confessional segment, Jake Worthington said he can wiggle his right ear (his demonstration appeared to be just a tad doctored). Shakira said she can "wiggle all the things," but she cannot wiggle her ears.
I am obsessed with "wiggle all the things." "Wiggle all the things!" is an Allie Brosh/Shakira meme that needs to happen. If I knew the first thing about making memes, I'd be all over it.
NEXT MONDAY NIGHT: Gwen Stefani and Pharrell Will Perform! Wiggle all the things!
Image: Trae Patton/NBC