This Is What Real Post-Baby Bodies Look Like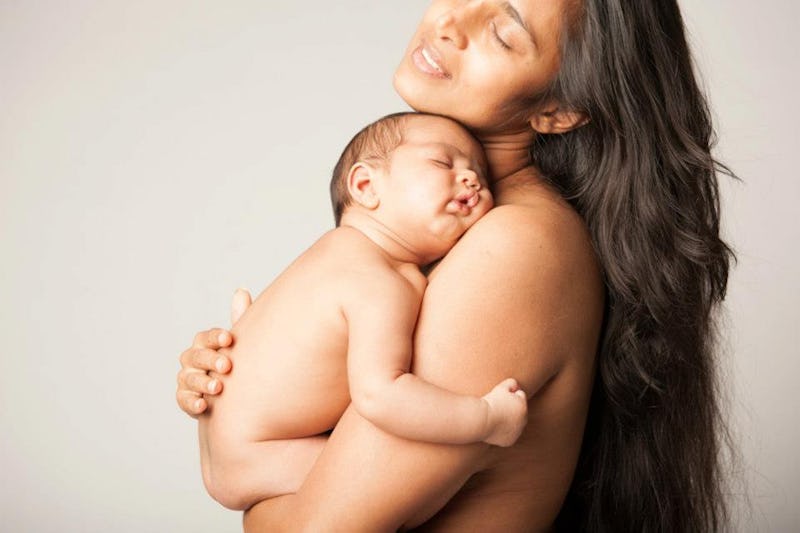 These days, when most of us think of the term "post-baby body," all that comes to mind are the Photoshopped-to-perfection images of celebrities that we see plastered on magazine covers and in advertisements next to headlines like "How did she do it?!" Unsatisfied with this portrayal, photographer Jade Baell took it upon herself to shatter this illusion and capture what all different types of women's bodies really look like after giving birth. Enter A Beautiful Body Project, a lovely new series of 80 nude or semi-nude portraits of women who have adjusted and grown to love their bodies after birth, stretch marks and all.
As can be seen below, the photos are mostly black and white and often feature the baby pressed up against the mom's naked belly or breast. But the best part? There's no strategic cropping, blurring, or smoothing in sight!
Beall says she first became inspired to shoot the photos after struggling with poor self-image throughout most of her life, and particularly after she gave birth. The turning point came when a nude self-portrait she posted of herself breastfeeding her son went viral online. The unexpected flood of interest and support made Baell realize lots of women felt the same way she did. So she created the series, hoping to inspire moms of all different shapes and ages to embrace their own post-baby bodies. Pretty amazing, right?
The project garnered $60,000 in support on Kickstarter and the series has since been turned into a book, out May 11.
There's no question that today's new mothers are facing unparalleled amounts of pressure to return to their pre-baby shape. It's almost like everyone's forgotten that they just finished growing another person inside of those bellies. I admire Baell for trying to encourage women to stop apologizing for their post-baby figures and just feel good about their changed physique. Hopefully, her stunning portraits will do just that.
Images: A Beautiful Body Project / Facebook