#TBT Reads: 'Baby-Sitters on Board!'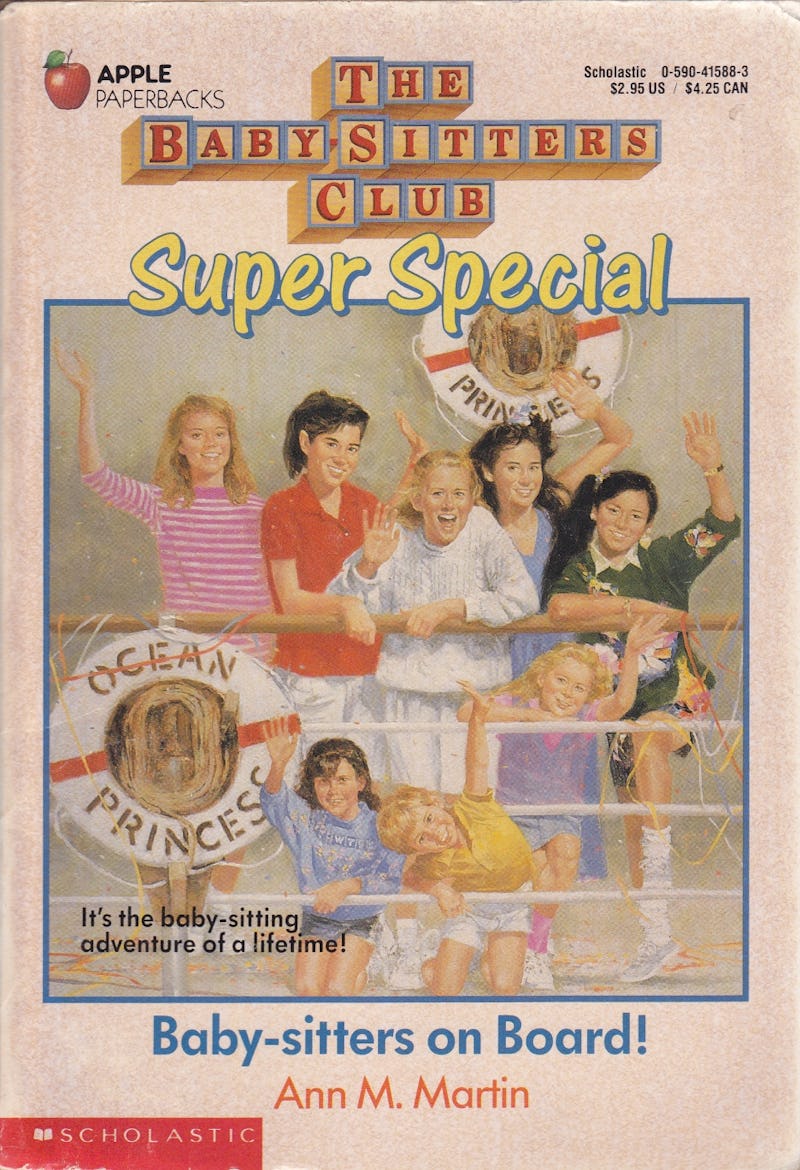 In May of 1990, publisher Scholastic could have rested on its laurels. It had published close to 35 Baby-Sitters Club books under author Ann M. Martin's name, and they were a massive success. Martin was pumping out an average of one of these books a month. But, to its financial benefit and readers' mutual benefit, that May Scholastic released the first of the BSC Super Specials, Baby-sitters on Board! (And yes, the exclamation point is part of the title.)
The Baby-sitters Club Super Specials were much longer than your standard BSC books. And while each of the original novels focused on one character at a time — Kristy's Great Idea , The Truth About Stacey, Dawn and the Impossible Three — but these had chapters from the point of view of everyone in the club.
In Baby-sitters on Board!, the Pike family wins a cruise to the Bahamas and a stay in Disney World. Because of his large brood (including BSC member Mallory), the parents invite Mary Anne and Stacey to come along and watch the kids. Kristy's stepfather jumps on the bandwagon and for some crazy, dream reason, he also allows her to bring Claudia and Dawn as her guests. Hijinks, romance, and squabbles ensue!
After the whole series officially ended in 2000, the 132 regular books, 36 mysteries, four super (!) mysteries, six portrait collections. three special edition readers' requests (which focused on non-BSC members Shannon and Logan), 15 super specials, and countless spin-offs. During the course of the series, from 1986 until 2000, the books sold more than 175 million copies because of girls like you and me.
Not to burst any childhood bubbles, but Ann M. Martin only wrote about 35 of the Baby-sitters Club books; the rest were ghostwritten.
What was so great about Baby-Sitters on Board!?
First and foremost, you have got to love any book that has an exclamation point in the title.
If you're elementary school experience was anything like mine, we all traded our favorite books around. These Super Specials were like gold; they'd warrant at least two standard Baby-sitters Club books, and because there were so few of them comparatively, we'd take our time, savoring chapter after chapter. Then we'd keep carefully tally on the checklists included in the back of each book.
Each chapter would be from one of the baby-sitters point of view, and would have their handwriting at the top of the pages. Stacey, of course, had the best handwriting, with the little hearts on top of her i's. (Fun fact: One single person at Scholastic did the handwriting for all of the girls.)
Claudia Kishi's chapters were the best because she was the best. The artsy, fashion-forward baby-sitter has a secret admirer who leaves a note for her under her cup of OJ. This of course, made all of us want secret admirers to leave us notes under our juice.
Mallory Pike's story was the most boring because Mallory is the worst. She decided to be Harriet the Spy and follow everyone around on the cruise taking notes and being generally annoying. And I can say that because even Martin has said that. in an interview, she was asked where The Baby-sitters Club members are now, she has a story for everyone — except Mallory. "Ann M. Martin does not have any 'strong feelings' about Mallory."
The cruise and time in Disney World was an adventure we all wanted to have with our friends, and so we just had to live vicariously through the people we pretended were our friends. (Just me?)
Why can we still appreciate it?
Beyond nostalgia, The Baby-sitters Club does give some lessons for book readers today, particularly in YA and MG. Books focused on female friends are still a minority in the categories, but Martin and Scholastic managed to pull off an immensely successful series centering on a large group of female friends. Sure, they fought occasionally — in Baby-sitters on Board! the girls who shared a tiny cabin together were frustrated with each other often — but there were no "mean girl' situations that populate the shelves today.
Plus, boys were a subplot at best. There was handsome Logan Bruno, but he fell for the quiet, shy Mary Anne (who Martin based on herself) and not the super cool Stacey or laid back Dawn.
Also, these girls got it done. They formed a business (if you call it a "club" can you avoid taxes?), managed their time, did well in school, had outside activities, and made cash. And they're in middle school.
As an adult, I am still in awe of Claudia's fashion sense. Martin has said that she would pore over fashion magazines to see what Claudia would wear. On the cruise ship, Claudia didn't disappoint. She wore a:
blue-and white bikini and over that, a pink sundress with spaghetti straps at the shoulders and big blue buttons down the front; a pink-and-blue scarf around my waist, knotting it in the middle; my snake bracelet and feather earrings, wound my hair up on top of my head; white sandals with long laces that you crisscross up your legs and tie in a bow.
I'll let Stacey tell you how we should all feel about that.
If you liked Baby-sitters on Board!, you might like...
(This, of course, is assuming your back-of-the-book checklist is already all crossed off.)
1. Keeping the Moon by Sarah Dessen
Sarah Dessen's Keeping the Moon has a similar beezy summer adventure feel as the super special does. Teenager Colie goes to stay with her crazy aunt Mira in North Carolina, where she starts working at the Last Chance Cafe. There she meets a duo of wacky fun girls who build her summer into something amazing.
2. The Sisterhood of the Traveling Pants by Ann Brashares
The Sisterhood of the Traveling Pants is an obvious choice for childhood BSC fans. It centers on friendship among girls, and it takes place in the summers that always seem to have a little bit of magic. Plus, Lena is such a Mary Anne.
3. Anna and the French Kiss by Stephanie Perkins
Like Claudia and Dawn have romantic rendevouz on the cruise ship, Anna meets a handsome, charming French man during her stay abroad, named Étienne St. Clair. Stephanie Perkins' Anna and the French Kiss has this captivating summery vibe, which makes it seem like anything romantic is possible.
Image: Giphy