21 Tattoos That Show Off Some Impressive Literary Devotion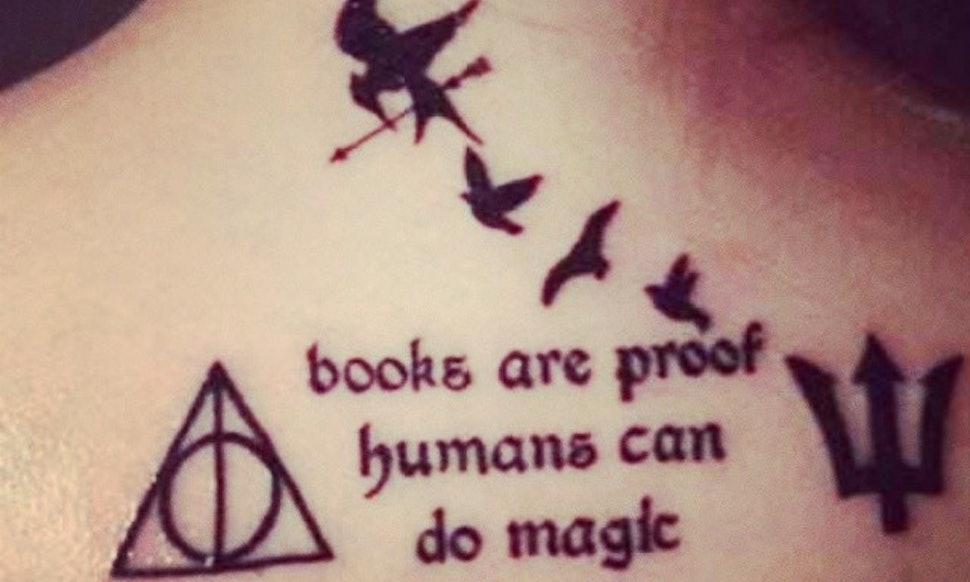 The greatest novels are filled with passages and quotes that stay with us long after we've finished reading. Every once in a while, there is a novel that so inspires us it's forever ingrained in our memories — and for some, those novels are worthy of a permanent tribute. These bookish devotees proclaim their love by engraving a permanent declaration in ink: a literary tattoo.
And, I mean, if you're going to get something irrevocably marked on your skin, what better declares who you are than your taste in literature? It's probably a better bet than a heart with your current boyfriend's name or that pop-punk lyric that really speaks to where you are in life. Literature is timeless. These 21 awesome tattoos show some impressive devotion.
Inspired by: 'Harry Potter and the Prisoner of Azkaban' by J.K. Rowling
"It's cruel that I got to spend so much time with James and Lily, and you so little. But know this; the ones that love us never really leave us. And you can always find them in here." —Sirius Black Image: evelynmariemc/instagram
'Harry Potter and the Prisoner of Azkaban' by J.K. Rowling
"This little beauty's taught us more than all the teachers in this school" —Fred Weasley on Marauder's Map
Image: redheadedstepkitten/instagram
'Of Mice and Men' by John Steinbeck
"As happens sometimes, a moment settled and hovered and remained for much more than a moment. And sound stopped and movement stopped for much, much more than a moment."
Image: jolene_jolen/instagram
'The Secret Graden' by Frances Hodgson Burrnett
"If you look the right way, you can see that the whole world is a garden."
Image: nikleana/instagram
'The Catcher in the Rye' by J.D. Salinger
"What really knocks me out is a book that, when you're all done reading it, you wish the author that wrote it was a terrific friend of yours and you could call him up on the phone whenever you felt like it. That doesn't happen much, though."
Image: bradleyteitelbaumtattoo/instagram
'The Great Gatsby' by F. Scott Fitzgerald
"In his blue gardens men and girls came and went like moths among the whisperings and the champagne and the stars."
Image: areyouthereashley/instagram
'And Still I Rise' by Maya Angelou
"You may write me down in historyWith your bitter, twisted lies,You may trod me in the very dirtBut still, like dust, I'll rise."
Image: sheilalalalalalala/instagram
'The Kite Runner' by Khaled Hosseini
"'For you a thousand times over!' he said. Then he smiled his Hassan smile and disappeared around the corner."
Image: gridleylord/instagram
'Justine' by Lawrence Durrell
"We are all hunting for rational reasons for believing in the absurd."
Image: ohhhangelo/instagram
'Where the Wild Things Are' by Maurice Sendak
"But the wild things cried, "Oh please don't go- We'll eat you up- we love you so!"
Image: deadsparrowtattoo/instagram
'Where the Wild Things' Are by Maurice Sendak
"And [he] sailed back over a yearand in and out of weeksand through a day and into the night of his very own roomwhere he found his supper waiting for himand it was still hot"
Image: makingmommaproud/instagram
'Matilda' by Roald Dahl
"So Matilda's strong young mind continued to grow, nurtured by the voices of all those authors who had sent their books out into the world like ships on the sea. These books gave Matilda a hopeful and comforting message: You are not alone."
Image: sailorsfighting/instagram
'Yertle the Turtle' by Dr. Seuss
"So Yertle, the Turtle King, lifted his handAnd Yertle, the Turtle King, gave a command. He ordered nine tutles to swim to his stone. And, using these turtles, he built a new throne. He made each turtle stand on another one's backnd he piled them all up in a nine-turtle stack."
Image: recordedbooks/instagram
'The Bell Jar' by Sylvia Plath
"I took a deep breath and listened to the old brag of my heart. I am, I am, I am."
Image: emogeeface/instagram
'The Bell Jar' by Sylvia Plath
"I took a deep breath and listened to the old brag of my heart. I am, I am, I am."
Image: kayypossible/instagram
'The Mouse and the Motorcycle' by Beverly Cleary
"Neither the mouse nor the boy was the least bit surprised that each could understand the other. Two creatures who shared a love for motorcycles naturally spoke the same language."
Image: penscore/instagram
'The Adventures of Huckleberry Finn' by Mark Twain
"I do not wish any reward but to know I have done the right thing."
Image: nzanuthin2fukwith/instagram
'Slaughterhouse-Five' by Kurt Vonnegut
The infamous phrase engraved on Billy Pilgrim's tombstone.
Image: surfacerising/instagram
'Peter Pan' by J.M. Barrie
"The moment you doubt whether you can fly, you cease for ever to be able to do it."
Image: queenbreezie5735/instagram
'Alice and Wonderland' by Lewis Carroll
"But I don't want to go among mad people," Alice remarked."Oh, you can't help that," said the Cat: "we're all mad here. I'm mad. You're mad.""How do you know I'm mad?" said Alice."You must be," said the Cat, or you wouldn't have come here."
Image: missmakeupgeek17/instagram
'Farenheit 451' by Ray Bradbury
"Stuff your eyes with wonder, he said, live as if you'd drop dead in ten seconds. See the world. It's more fantastic than any dream made or paid for in factories."
Image: kpthrash/instagram