6 Reasons Ariana & Jai were Always Meant to Be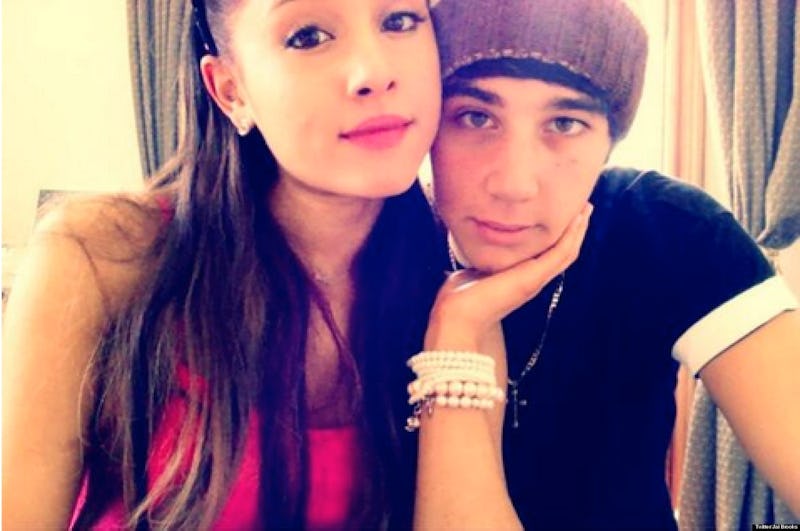 If you're a Once Upon a Time fan, then you know a lot about the power of true love. For the longest time, while Ariana Grande and Jai Brooks of the YouTube comedy group the Janoskians were together, their fans firmly believed that they had it. Their breakup hit a lot of people hard, especially with the messy and downright scandalous way that it ended. Naturally, when Ariana Grande and Jai Brooks were caught kissing at the iHeartRadio Music Awards, their fans, who affectionately refer to them as Jariana, were euphoric. #HappyForJaiAndAriana has been trending on Twitter all morning and for good reason: the two of them were adorable back in the day.
Jai Brooks and Ariana Grande are actually an Internet love story. They began dating in July 2012, but didn't actually meet each other until December 2012, at which point they had their first kiss. In the year that they were dating, Grande and Brooks were very open with their affection for one another, flooding Twitter and Instagram with numerous shout outs to each other. Grande and Brooks have yet to confirm whether or not the kiss means that they're back together, but looking at their previous relationship just proves that they were always meant to be.
1. He Fell For Her — Literally
Brooks and Grande began dating over the Internet, some time after Grande's mother showed her a Janoskians video on YouTube. When they finally met in person, Grande's brother, Frankie Grande, filmed the whole thing. Grande waved and headed toward him just in time for Brooks to fall on his face in front of her. Lots of guys can say they're falling for you, but very few of them actually do.
2. Kristen Bell Isn't the Only One Who Made Sloths Cool
Grande and Brooks had something truly strange in common: a love of sloths. Grande got Brooks a sloth named Lola for his birthday and the two of them even had matching sloth hoodies, because nothing says love like matching outfits based on quirks and inside jokes.
3. Brooks Never Stopped Loving Her
Neither Grande nor Brooks was shy about showing exactly how much they cared for each other. Even when they broke up and Brooks accused Grande of cheating on him on Twitter, he said, "Nathan if you read this, when you hold her hand you better hold it tight because you are holding my world. I do wish you two happiness and a good life and hope everything works out."
4. Grande Said That She Might Marry Him
During a live-chat with her fans, Grande was asked if she might marry Brooks. She admitted that she might, but then again she also said his name wrong while she was doing so. Whether it was a joke or whether she was serious when she went on to say that she just can't pronounce anyone's name doesn't really matter. It was still adorable.
5. Grande Trusts Him Enough to Let Him Do Her Makeup
Brooks didn't know what half of her makeup items were even for, but that didn't stop Grande from not only letting him do her makeup but also filming it to share with their fans. Of course, she got her revenge in another video wherein Brooks allowed her to do his makeup in return. If that's not true love, nothing is.
6. The Fans Are Digging It
Enough said.
Image: JaiBrooks1/Twitter