Andrew and Emma Made Out On 'SNL'... Sort Of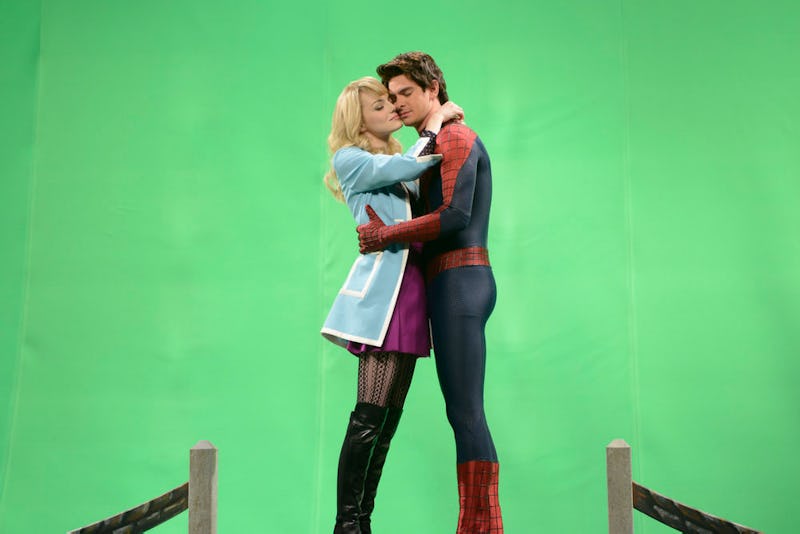 Actor Andrew Garfield hosted SNL for the first time on Saturday night with musical guest Coldplay. The Amazing Spider-Man 2 star may have been an SNL newbie, but he hosted the show like a seasoned pro. I'm not a big Spider-Man fan, but I really like Garfield. (I'm still mad that the Oscars snubbed him in 2011 for The Social Network.) After I remembered that he's British (I forgot, okay?) and accepted the fact that he foolishly buzzed off all of his beautiful hair (why?), Garfield was an absolute joy to watch.
Naturally, Garfield's girlfriend and Spider-Man co-star Emma Stone made a "surprise" appearance last night (c'mon, we all knew it was going to happen). She showed up during Garfield's opening monologue to give him a few last-minute hosting pointers, and later, she returned to do a pretty hilarious Spidey sketch (more on that soon). I love Stone, and it was fun to have her around, but in all honesty, Garfield didn't need any help! He did well all on his own. In fact, Garfield was so good, there were no Must Miss sketches! That's right, you can totally watch Saturday night's episode all the way through without groaning…too much.
Musical guest Coldplay performed two songs from their upcoming new album, Ghost Stories: "Magic" and "A Sky Full of Stars." "Magic" was OK — it's not my favorite song from the band and the newly uncoupled Chris Martin was really difficult to hear during the verses (I swear, SNL has the shoddiest sound system). "A Sky Full of Stars" was a much more interesting performance to watch, mostly because of Martin's strange, The Matrix-inspired dance moves. There was a lot of arm flailing going on. I think "A Sky Full of Stars," produced by Swedish DJ Avicii, is going to be a big hit for the group.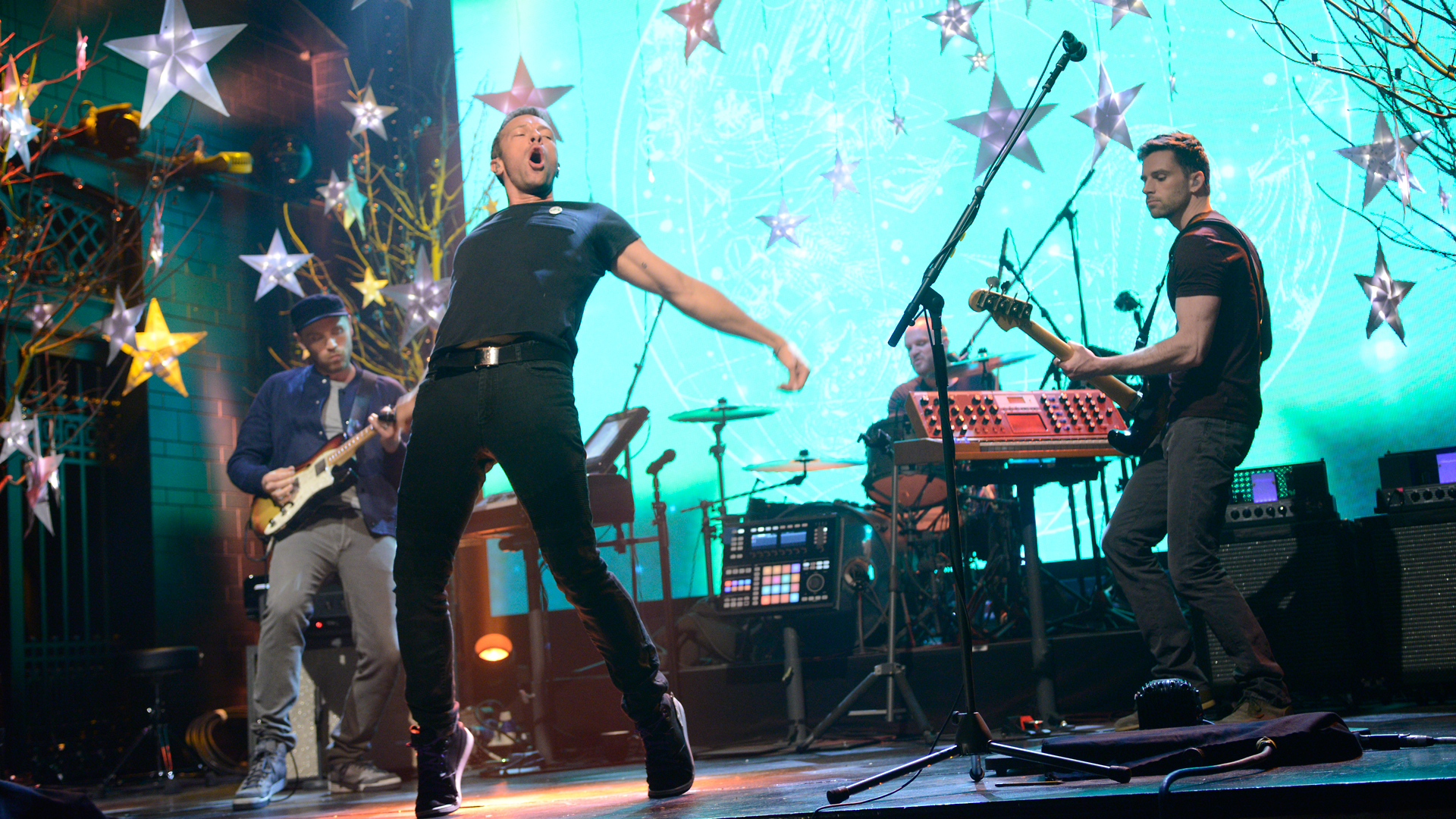 Check out my rundown of the night's Must Watch sketches below!
Must Watch
The Beygency
My favorite sketch of the night is a phony preview for a new movie called, The Beygency. When Garfield's character tells his wife and friends that he actually doesn't care much for Beyoncé's song "Drunk In Love," all hell breaks loose. Before he knows it, Garfield is on the run from The Beygency — a crew of thugs that imprison anybody who dares to speak ill of Beyoncé. Along the way, Garfield gets some help from Jack Bauer and Chloe from 24 — they're hiding from The Beygency, as well (Bauer shows us that he has a "Rihanna #1" tattoo on his chest). Unfortunately, Garfield is eventually captured. He screams from his prison cell, "I love Beyoncé! I still listen to 'Baby Boy'!" Sadly, it's no use. The film is rated NC-17 for mild language against Beyoncé.
Celebrity Family Feud
I'm a sucker for celebrity impressions, and I especially love when Kenan Thompson plays Steve Harvey, so this sketch is a total home run for me. This time on Family Feud, it's American musicians versus international musicians. Garfield is the highlight here with his surprisingly good Justin Timberlake impression, but really, everybody does a great job. Noel Wells has only one line as Reba McEntire, but she totally nails it. I died when Thompson as Harvey said that he wanted to pick up Bruno Mars (Nasim Pedrad) and present him to everyone "Lion King-style" because he's so darn cute. Taran Killam is also hilarious as Russell Crowe, who serenades everyone with this tragic voice.
Spider-Man Kiss
Garfield and Stone are almost finished filming The Amazing Spider-Man 2, they just have to shoot the movie's final love scene. The director (Killam) doesn't think filming the scene is going to be a big deal — after all, it's just a kiss. But he has no idea that, for some reason, neither Garfield nor Stone has any idea how to kiss. Apparently, in the first film, they used stunt doubles. In the first take, instead of kissing, the two actors turn their faces to the camera and just sort of wag their tongues around. During the second take, they both open their mouths as wide as they can and press them together. Next, they share what can only be described as a "lizard kiss." Finally, Garfield essentially attempts to eat Stone's chin. The director is fed up and is about to call it quits, but thankfully, Chris Martin from Coldplay shows up to save the day. He steps in for Stone, sweeps Garfield off his feet, and shows us all what a real smooch looks like. (Actually, not really. We don't actually get to see Martin and Garfield kiss. I suppose that would've been too scandalous. Boys kissing? Ack!) Still, a really funny sketch.
Wedding
We're at Brittany and Jeff's wedding reception, where Kevin (Garfield) decides that now is the perfect time to confess his love for the bride (Cecily Strong). Sadly, Brittany doesn't feel the same way. Embarrassed, Kevin runs off, but he has to return almost immediately because it's time for the best man and the maid of honor's toasts! Whoa, Kevin's the best man? How awkward! Things get even worse when we discover that the groom (Killam) is his cousin…and the maid of honor (Pedrad) is his wife of six years. They also have four young children who have been sitting at a table nearby watching the entire situation unfold. Like I said, it's SO awkward, but the way that details are revealed throughout the sketch is awesome.
That's all for this week! Tune in next Saturday for host Charlize Theron and musical guest The Black Keys.
Image: NBC