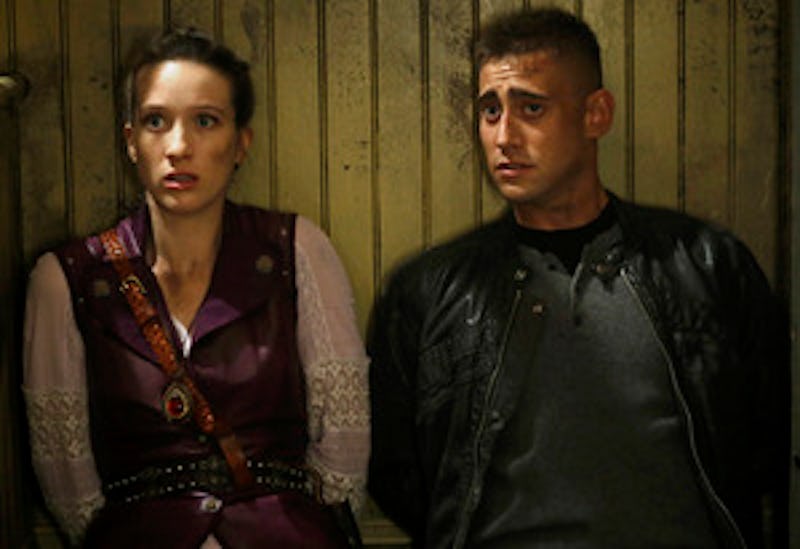 Though Once Upon a Time in Wonderland may be no more (RIP, spinoff) you haven't seen the last of the Knave of Hearts — or the cool British actor who plays him. Michael Socha is heading to Once Upon a Time as a main cast member in Season 4, which means you're officially going to be seeing a lot more of this guy. (I'm certainly not complaining — just look at him.)
We can only speculate as to what Socha's new show will bring for his character. As Once Upon a Time In Wonderland fans know, the Knave — AKA Will Scarlet, AKA the White Knight, because who doesn't have a billion aliases on these shows? — worked with some of the characters we've seen on the mother show already. He joined Robin Hood's Band of Merry Men as a thief briefly during his time on Once Upon a Time in Wonderland. Considering that Robin Hood's band no longer consists of flying monkeys, there's a possibility that the Knave may form a new alliance with Robin Hood and his band of well-intentioned thieves.
Another connection that the Knave has to the other fairytale characters on Once Upon a Time? Like the Evil Queen, Regina, the Knave has some experience with lost love — and with losing his heart. Could the Knave come to Storybrooke with the same tale of woe that Regina had? Will they bond over their missing aortic pumps?
Whatever his storyline, Socha's acting resume proves that he has the chops to carry it. So where is this guy from, other than the spinoff of Once Upon a Time? Here's a rundown of all the places you might know Socha from that aren't fairytale-centric TV shows.
Prior to his TV career, Socha had a role in Shane Meadow's skinhead subculture film This is England. The film received very positive reviews and led to two TV spinoffs, This Is England '86 and This Is England '88, which Socha reprised his role in. After that, Socha starred in the miniseries Homefront which focused on the army wives of English soldiers. Socha did several TV movies and shorts before returning to TV once again to join the fourth season of the UK version of Being Human as werewolf Tom McNair. He scored a role alongside Martin Freeman in Svengali before heading over to ABC for his role on Once Upon a Time in Wonderland.
While we aren't sure what the Knave of Hearts (a.k.a. Will Scarlet) will be doing on Once Upon a Time, we're excited to see Socha take on the the original series with the same charm he infused into Once Upon a Time in Wonderland.
Image: ABC