Get Pumped for Vans x 'Star Wars'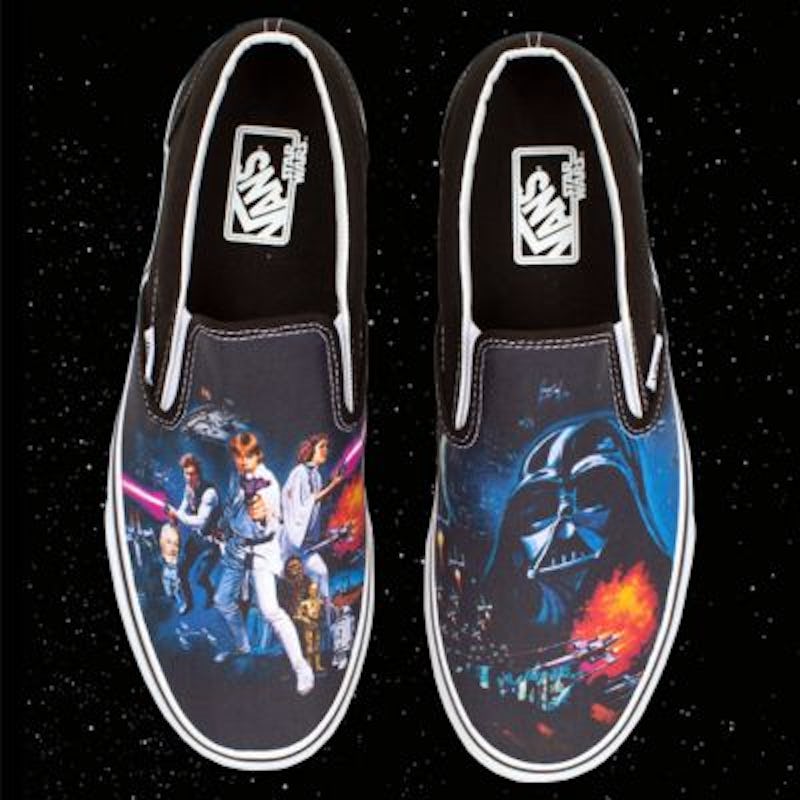 May the force be with you. That's one of the two Star Wars quotes I know — I'll let you guess the other one. So maybe I'm not the biggest Star Wars junkie. But I am a huge fan of shoes. Now, the two will merge, thanks to the Vans x Star Wars collaboration. Never has there been a more perfect line to wear while smoking cloves at the skate park after school.
Do the alternative, Kurt Cobain wannabe teens still smoke cigs at the skate park after school? Maybe my age is showing, but one thing I know for sure — if you love Star Wars (or pretend to love Star Wars because geeks are the new cool kids) you will love these sneakers. There are Darth Vader high-tops. I mean, come on. You're salivating over all of the ironic ways you can sport those bad boys. Rock them with the C3PO evening gown from Rodarte's Star Wars- themed fall collection and Scott Schuman will be begging to photograph you for The Sartorialist.
Besides shoes, the collab will feature "clothing and accessories pieces for men and women, including backpacks, trucker-style caps, T-shirts and socks." Shoes will retail for $60 to $70, apparel for $17 to $52.50. Additionally, Vault by Vans will release a limited edition selection of shoes in archival prints priced $80 to $140 and available only at high-end boutiques. Small price to pay for to be the freaking coolest tween at Warped Tour, am I right?
Good news for impatient fans: you don't need to wait until the new J.J. Abrams movie comes out in December 2015 to sport these awesome kicks. The shoes will be available in stores and online beginning June 1st (the Vault by Vans offerings have been out since May 4th). Head over to the Vans website and sign up to be notified when the line is available for purchase. When your Jedi slip-ons come in the mail, what will you do? Put them on and go straight to the skate park. Do not pass "go." Oh, and Luke? I am your father. (There's the second quote.)
Images: Vans x Star Wars