Katherine Heigl is Back on Primetime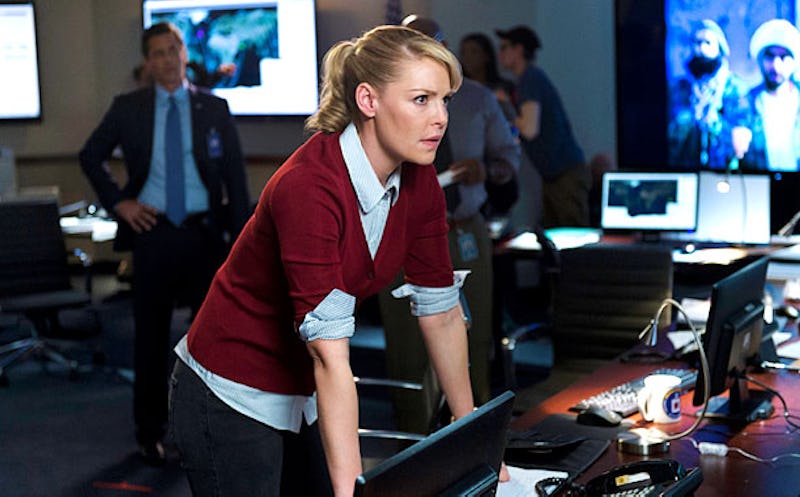 A bunch of new shows just got full season orders on Fox and NBC and more are sure to follow. For now, Fox has picked up Lee Daniels' hip hop drama Empire, Octavia Spencer's Red Band Society, and extended their episode order for Mulaney. NBC will be carrying the comedy Marry Me and the two dramas Allegiance and State of Affairs. The latter is significant because State of Affairs will mark Katherine Heigl's first return to primetime TV since her dramatic Grey's Anatomy exit in 2010.
Heigl has had problems finding work in the wake of Grey's as rumors spread throughout Hollywood that she and her mother/manager were difficult to work with (and that's putting it nicely). Heigl commented on that notion to Vanity Fair, dismissing her mother's supposed poor behavior. "This is a fear-dominated industry and my mother refuses to be intimidated by that. This is all a game of chicken and my mother is really good at chicken."
But it seems that Heigl and her mother may have gotten their attitudes in check long enough for Heigl to get cast in State of Affairs, where she plays a top CIA analyst. All Heigl rumors aside, the series is actually poised to be a really important one for women as it attempts to show that powerful women can kill it at work and balance a personal life. (Take that Fox News!) Hearing that it was one of the pilots that got picked up for a full series is good news to say the least. See Heigl in her Charleston Tucker character for the first time below:
In addition to Heigl's show, NBC ordered the comedy Marry Me which is about a couple who decide to put off their engagement "after a botched proposal plan." The show comes from the mind of the Happy Endings creator and is sure to be full of hilarious hijinks.
They also ordered the drama Allegiance which, like Heigl's show, happens to be about the CIA. A young analyst learns his parents are former Russian spies. This show could also contain hijinks, but probably with serious dramatic undertones because America vs. Russia is on in real life.
And not only did Fox order the hip hop drama Empire starring Terrence Howard, but they extended their order for comedy Mulaney from 10 episodes to 16. They're also giving Octavia Spencer's Red Band Society a shot which is a drama/comedy about teens who meet as patients "and become unlikely allies and friends."
Forget Christmas, it turns out May is TV's most giving time of the year. Be sure to stay tuned here at Bustle as more shows get picked up full time across all the networks in the coming days.
Image: NBC