This Chick Is Upsetting ALL the Beliebers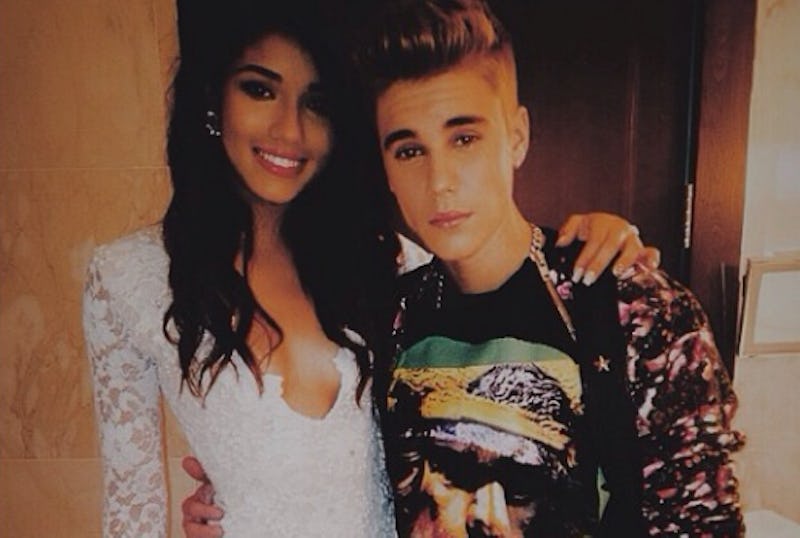 Now that Selena Gomez is out of the picture (for now), Beliebers are jealous to the point of anger about someone new. It appears that Justin Bieber is dating Yovanna Ventura, an 18-year-old model from Miami. Neither Bieber nor Ventura have confirmed that they're official — they're at least clearly going on date-like outings — but this has not stopped his fans from getting all up in her Instagram comments. Some are saying straight up that they hate her and are jealous, while others are defending her because, almost equally as creepy, all they want is Bieber's happiness. This lead Ventura to post a photo with a long caption explaining her true self and that she isn't just a Bieber hanger-on or a gold digger without actually saying the words "Bieber" or "gold digger" because that would be admitting there is a relationship and this is all purposely secretive.
Ventura wrote,
What you see on the outside is not who I am on the inside. I get so much judgement about what people THINK I am before they actually get to know me. I am a simple and very practical girl that is not turned on by flashy things. I am far from superficial or petty. Sometimes we as people need to stop passing judgment on the ones you know nothing about. Rather, take the time out and find out who you really are as a person. Instead of condemning someone you know nothing about.
So what do we know about this "simple and very practical girl?"
She goes to high school in Miami at Miami Senior High School.
Her school is apparently very lenient with time off because she recently hung out with Bieber at Venice Beach in California and joined him for the Floyd Mayweather fight in Las Vegas on Saturday.
She towers over Bieber when wearing heels.
She doesn't have Twitter account and takes Instagram very seriously. On her page she explains, "Only IG NO twitter Negativity = get blocked."
She has over 225,000 followers.
She's fluent in English and Spanish.
She works out a lot and posts how-to exercise videos on Instagram.
She loves a good crop top.
She is totally down with the whole "keeping the relationship vague but going on dates in public places where there are paparazzi" thing. She posted a photo of herself with Bieber in which she calls him "mi amigo." Bieber did the same thing and called her "my friend."
She likes showing off her abs just as much as Bieber.
And ya know what, after those last two points, I'm convinced these kids might just be perfect for each other. Best of luck, you guys! And my apologies to the Beliebers, it ain't happening for y'all. (Unless you become Instagram famous, then it might happen.)
Images: Yovanna Ventura/Instagram; Justin Bieber/Instagram