We Know You Pop Pimples, Here's What To Do After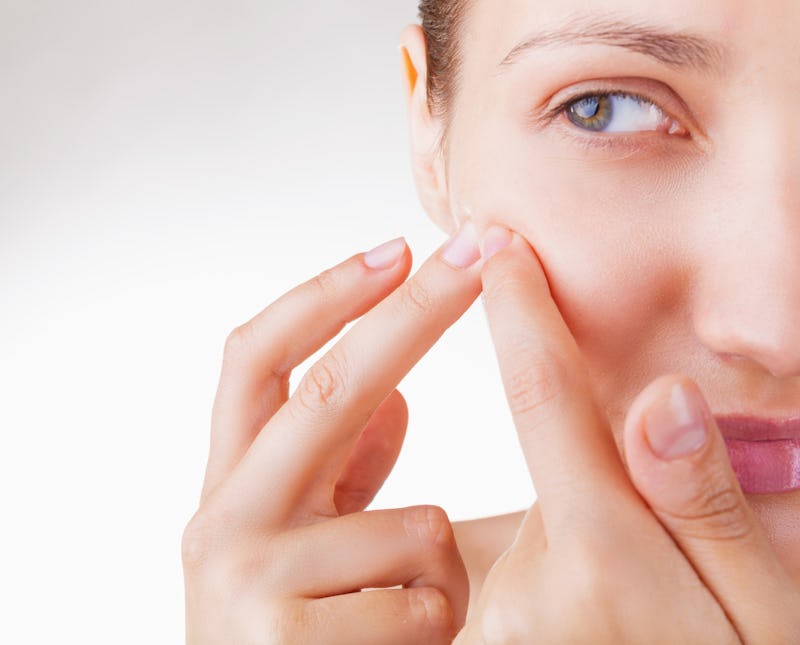 We all know deep down that it's wrong to do, but pimple popping is one habit all of us do on occasion when the situation calls for it (first date pimple situation, anyone?) Of course, the best solution would be to take your zit to a dermatologist who can inject the area with a cortisone shot (this'll clear it up at lightening speed).
If that's not possible, the next best solution is to apply an acne-fighting treatment that contains benzoyl peroxide or salicylic acid and wait it out overnight. If thaaaaat's not possible, yeah, we know you're going to pop it. Here's how to do it properly and make sure you are taking care of your skin properly afterward:
Try: Mario Badescu Drying Lotion, $17, Amazon
First, The Popping Basics
It's obviously not recommended, but the experts agree that if you have to do it, there's a right way to go about it: "Cleanse, exfoliate and then apply a warm compress to steam your skin before starting," says Kate Somerville, esthetician to Jessica Alba and Paris Hilton and founder of Kate Somerville skincare. "Wrap your fingers in tissues or cotton swaps and gently squeeze blackheads." For whiteheads, she recommends using a lancet to carefully pierce the center of the blemish, then releasing the infection by gently squeezing. "If you don't use this method you're actually breaking the skin and creating an injury, which can leave a scar."
Try: Suvorna Skin Care Lancet, $13, Amazon
If it's a blind pimple — that is, still under the skin and only showing up as a red bump — New York dermatologist Dr. Jeannette Graf says not to attempt popping — nothing will help this yet. Try a clay mask to draw out the impurities and help it along.
Try: Aztec Secret Healing Clay Mask, $14, Amazon
Here's What To Do Next
The blemish isn't over after you pop it. How you care for that area afterward will determine whether you end up with scarring or cause more zits to arise in the area.
Use Toner
"Immediately afterwards apply witch hazel or a toner that contains witch hazel to the affected area," says LA esthetician Tony Silla. "This will help soothe and calm the area, helping to remove some of the redness."
Try: Thayers Rose Petal Witch Hazel, $9, Amazon; Dr. Hauschka Facial Toner, $22, Amazon
Ice It
Somerville also recommends applying ice (wrap up in a tissue first if the sensation is too intense) to reduce the inflammation and swelling.
Fight Bacteria
Afterwards, "use an anti-bacterial treatment such as Neosporin which will help heal and form a protective moist shield to keep the area from becoming dry and scaly," Silla says.
Do Not Touch
Finally, Dr. Graf instructs to keep your hands away from the area, to avoid spreading the bacteria. "Place a band aid on the area, if necessary."
Be Careful With Makeup
Never apply foundation or concealer to the area if skin is broken and open — the risk of bacteria getting into the blemish is high. "I recommend applying a gel spot treatment that will form a film over the area and making sure the skin is closed before applying any makeup," says Somerville.
Want more beauty tips? Check out the videos below and subscribe to Bustle on YouTube!
Image: Artem Furman / Fotolia.com