'Hannibal' Changed Her Gender For The Show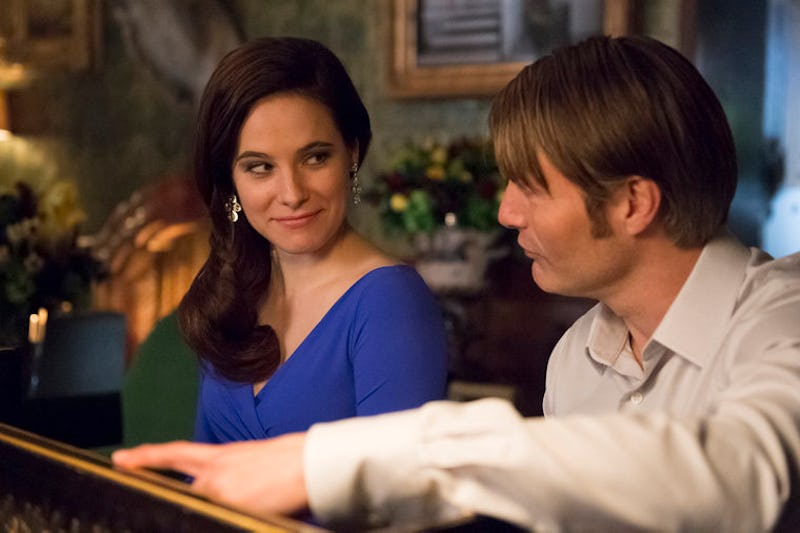 One of the biggest mysteries about NBC's bloodiest drama has nothing to do with serial killers and when they will get caught. It's all about Hannibal's Alana Bloom. The psychology professor is quite an enigma when you think of it. Other than falling in love with Will, then believing him to be a killer, then actually falling in love with full-fledged serial killer, we don't actually know much about her.
So let's look to the books upon which the character and the Hannibal series were based. From the very first episode of the show, Hannibal creator Bryan Fuller has been taking liberties with the story, plot progression, and the characters. So there's no surprise that the Alana we've all come to not really know and therefore not really love doesn't actually exist in the Red Dragon, the main book of focus for Fuller's show.
However, there is an Alana Bloom book-bound counterpart: A Dr. Alan Bloom. Here's what we know about the psychologist in the novel as compared to the TV version:
1. Alana's Gender Has Been Changed For The Series
In case the name change didn't make it clear enough, in the novel Red Dragon Alan Bloom's full description is described as a "small round man with sad eyes." Alan Bloom is professor in the novels and works at the University of Chicago's psychiatry department. He only comes in to consult with the FBI's behavioral sciences division much like Will in the first season of the TV show. And to be honest, there's not much more to say about him.
This is a change worth appreciating. There's too much testosterone in Red Dragon, the one book that does not include Agent Clarice Starling. And the show has an interesting way of killing off or screwing up some of its more interesting female characters — ahem Beverly Katz.
2. Book Bloom Has No Relationship With Hannibal
One of the more interesting differences between Book Bloom and TV Bloom is the relationship with Hannibal. In the novels, Dr. Bloom does not know Hannibal until after he's been caught by Will Graham. And much like his colleague Dr. Chilton, he is very fascinated by Hannibal's psychology. Though, to be fair, who isn't fascinated with Hannibal's psychology?
3. Will And Bloom Barely Register Each Other Outside Of Work
And here's where Bryan Fuller's biggest change happens. Will and Book Bloom have no real personal relationship outside of work in the Thomas Harris novels. Other than having a friendly rapport while conducting their serial killer-catching business, Book Bloom has no interest in Will's dysfunctional mind, and that's what makes Will like Book Bloom even more.
The real question will be where Fuller decides to go from here with Alana. She's now engaged in a relationship with Hannibal and there's no way it can end well, especially since this season will end with Jack Crawford finding out about Hannibal's secret and a crazy fight will ensue. Will Alana be able to get out in time? Or is she doomed to be collateral damage? We don't know, but we can't bear to lose another female character on this show.
Images: NBC/Brooke Palmer; Tumblr/queenhettienne; Tumblr/lori-grimes