Desigual Admits Condom-Piercing Isn't Cool, Kinda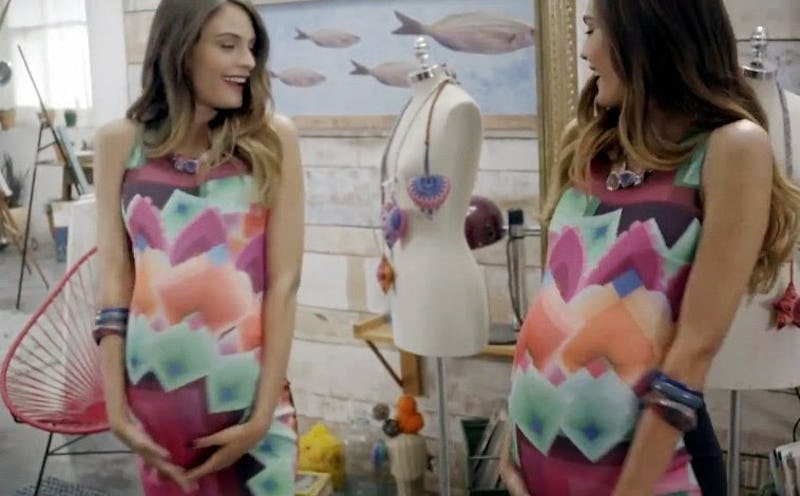 Remember when I told you about that totally bonkers Desigual Mother's Day ad? The one with the psycho condom-piercing lunatic? Our cries of outrage have (sort of) been answered. Desigual issued an apology on their blog in response to the heavy backlash from the media.
The original ad showed a model gleefully punching holes in a packet of condoms with a pin. Social media, bloggers, and journalists (myself included), took to the Web to express outrage at the dishonest message of the ad. An edited version of the commercial spot has been released, with the condom-piercing part removed. However, the model can still be seen flirtatiously grinning at her reflection with the pin between her teeth.
An official statement was posted on the Desigual blog, apologizing for the ad, which was produced as part of the #TuDecides campaign. The campaign is meant to emphasize personal choice in the wake of the proposed abortion ban in Spain.
Desigual's apology is typical of this sort of incident, claiming that the company never meant to cause offense and was only trying to be funny. The text originally appeared in Spanish, translated here:
All of Desigual's campaigns have a happy and carefree message that use creative approaches. It's always the case that everyone is free to interpret the message of the story. Proof of this is that the ad #TuDecides, among other interpretations, has been criticized for being anti-abortion and as a manifest against it. Piercing a condom is an act that really grabs your attention, just like lighting a match in the dark or popping a ballon in silence. Lighting a match doesn't have to serve as a sign of pyromania, but can instead be a symbol of an idea, to enlighten, to undertake, etc. Piercing a condom can be an ode to motherhood. A symbol, a metaphor. The imagination is left free to think about the consequences.
Perhaps something has been lost in translation, but Desigual seems to be missing the point of the backlash with this apology. The commercial is offensive because it portrays this woman as a baby-crazy lunatic who is willing to put her health and the health of her sexual partners in danger so she can have a child. Desigual's statement implies that we just don't get the joke.
See the edited commercial below. It's still pretty weird, but at least we don't actually see this woman poking holes in the condoms this time.
Image: Desigual
SaveSave