The CW Axed These Shows, But 'Dixie'll Be Back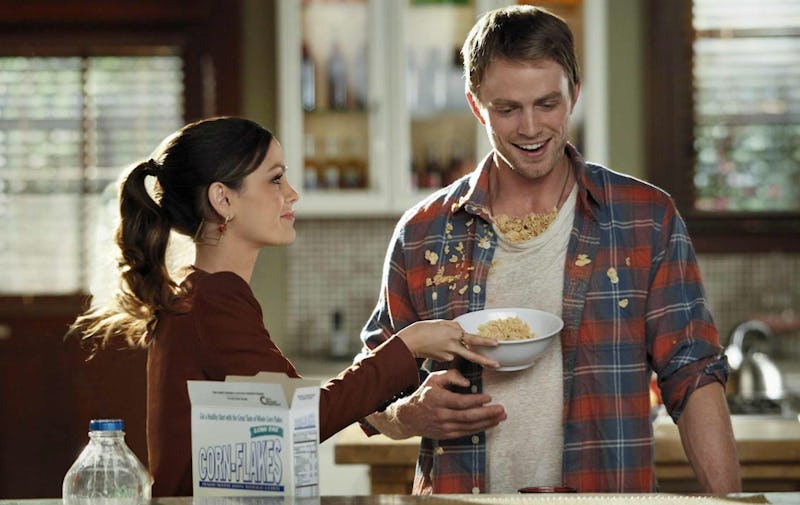 I said my goodbyes to Hart Of Dixie months ago. Don't get me wrong, I've stayed a tried and true fan through the thick and very thin of the show's three seasons, but I also spend my days trawling through things like TV ratings, and it was clear Hart Of Dixie was not long for this world. But, surprise: The CW's renewed Hart Of Dixie while canceling The Tomorrow People, The Carrie Diaries, and Star-Crossed. But what's a show to do when it's put months of energy into seemingly wrapping itself up?
It was clear going into this season that the people behind the curtain still had high hopes that this season wouldn't be its last. This was evident mainly in the fact that they introduced a new serious love interest for Rachel Bilson's Zoe Hart, enmeshing her in a very committed, on-the-roads-to-marriage situation despite the fact that the two seasons preceding this had revolved entirely on the are-or-aren't-they-destined love triangle of Zoe with two other men. It was a storyline that was definitely going to take some time for the show to write off when the time came to get everything back on a track that led to an endgame satisfying for those of us who'd stuck with Zoe and her romantic bullshit since day one.
And so it became obvious at a certain point this season, around early April, when the entire show started pivoting. Shedding story arcs — rapidly — and pointing itself back in a direction that meshed much more easily with who fans have long lobbied for Zoe to be with. Joel — Zoe's Season 3 boyfriend, who had actually been a surprisingly delightful addition to the cast — suddenly got a dream job far away in Los Angeles, and one to start up right after that in London. That future between Zoe and Joel, basically, was dead, and after some prerequisite nursing of her broken heart the show would be free to start opening her up to a rekindling of the loves that came before.
This all happened in quick succession: Zoe broke up with Joel; Zoe's almost-ex George hooked up with Lemon, the woman he'd left at the altar for Zoe (long story), sparking new feelings and hinting at a possible reunion; Wade, Zoe's most recent love and probable endgame partner, was dumped by his most recent relationship — and she moved away, leaving less of a mess behind than there could have been.
In the most recent episode George and Zoe — who spent much of the first and a good chunk of the second seasons in love with each other but pushed apart by fate — took a walk together and agreed that any romantic connection the two of them had had was in the past, and that it was time to put that story behind them and remain friends. Then George made a comment about Zoe's potential lingering feelings for Wade, and Zoe returned the favor with a comment about Lemon. I haven't seen the final episodes of Hart Of Dixie Season 3, but my spidey-senses are telling me that certain endgames are fast approaching.
Which leaves me wondering: What the hell are they gonna do next year? I have frequently been surprised by Hart Of Dixie's ability to handle the tired trope of the wacky love triangle in unexpectedly nuanced ways — it is definitely a silly CW show at its very core, but when it's good it can tackle the realities of modern romance with the best of 'em. So what do they do if this season's finale, as I suspect it might, walks at least a few of its characters towards their endgame sunset? Basically: What's a show to do when it's already said goodbye to its characters?
I have no doubt that given the story space, the people behind Hart Of Dixie can rock a Season 4. I just can't wait to see how they do it — and how much they have to shake things up again in the process.
Image: The CW