An Ode To April Ludgate's Brooding Sense Of Style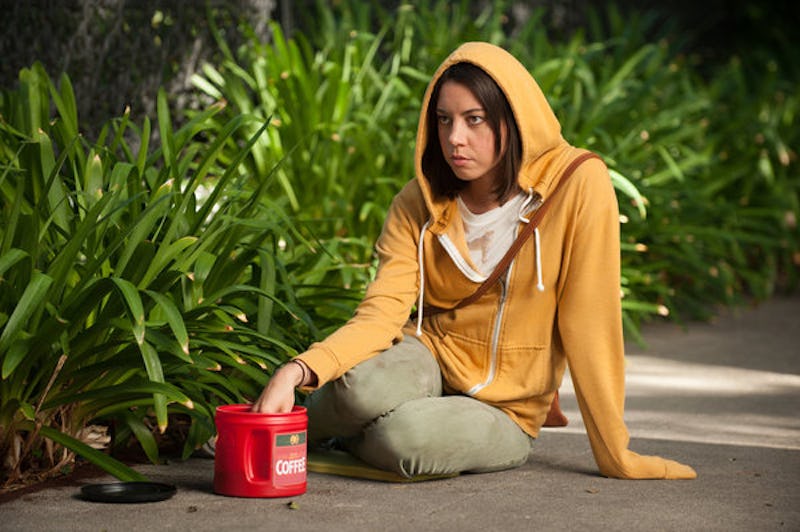 April Ludgate, played by Aubrey Plaza on Parks and Recreation , is by far one of the weirdest characters on television. And I'm completely obsessed with her. Every time she mutters one of her vaguely psychotic lines (Like "If you ever speak to me in Spanish, please use the formal 'usted.'" or "But at least I didn't make any new friendships." or, simply, "I hate people.") I find myself falling more and more in love with that crazy woman I sometimes wish I had the guts to be.
Aside from her snappy comebacks and bizarre hypothetical situations, my favorite part of April is her style sense. Her everyday wear certainly has more personality than Leslie Knope's skirt suits (not that I don't love her skirt suits!), and is rarely as dark as April's twisted sense of humor. No deep purple lipstick or safety pin accessories here—she dresses just like your average 20-something, which makes her outlandish musings so much more relatable.
Much to my utter dismay, it appears next season will be our final time with the brooding beauty. NBC has announced that the seventh season of Parks and Rec will be its last—which definitely explains why they jumped forward three years in season six's finale. Gotta wrap all that baby stuff up, you know? In honor of one of my favorite sitcoms and the strangest person in a whole ensemble of quirky characters, here are April Ludgate's very best fashion moments. Awesomesauce.
When She Asked To Work For Ron
Ron and April might as well be father and son—their hatred for humans is basically equal, sparing room in their hearts for only their spouses and Leslie Knope. April wore the exact right outfit to beg Ron for a job: a laid-back chambray, patterned tank, and pants the color of his favorite wood, mahogany.
When She Tries To Sell Ron's Cabin
Striped tops and colored pants are a staple for April, even when she's off in the woods for a day. April nails hiking-casual by adding a green army jacket that toughens up her otherwise preppy look.
When She Met Her Dopplegänger
Keeping it cool in an oversized plaid, April proceeded to ditch her daily responsibilities and bond with new BFF Tynnyfer over Xanax, manicures, and her dress that's "so cute, it's bonks."
When She Didn't Win The Beauty Pageant
Despite being disgusted by the whole charade, April enters a beauty pageant because the prize is $600. Her blue and white dress is almost as impressive as her ability to "sneak like, three dogs into a movie theater."
At Ann And Chris's Goodbye Party
Donning a dark bodycon to bid her most loathed couple adieu, April is a disinterested vision in purple and black.
When She Stood Up For Leslie
To give a speech in London about why Leslie rocks, April wore one of her cheeriest ensembles: a bright, striped shirt and denim-on-denim.
Any Time She's Janet Snakehole
April's alter-ego, Janet Snakehole, is an exotic, world-traveling, possible murderer with a killer '40s-starlet accent and the elegant clothes to match.
When She Went To Prom
The most goth April's ever looked on the show blossomed from her determination to not have fun at prom. Of course Andy won Prom King, and April stood by his side looking like a completely elegant corpse bride.
When She Got Married
I can barely write for all the tears spilling onto my keyboard when I recall the highly irresponsible adorable-ness that was Andy and April's spontaneous wedding. Our girl's signature smirk ended up being the perfect accessory to her simple, white frock.
Images: NBC/YouTube