Vicki Might Have a New Enemy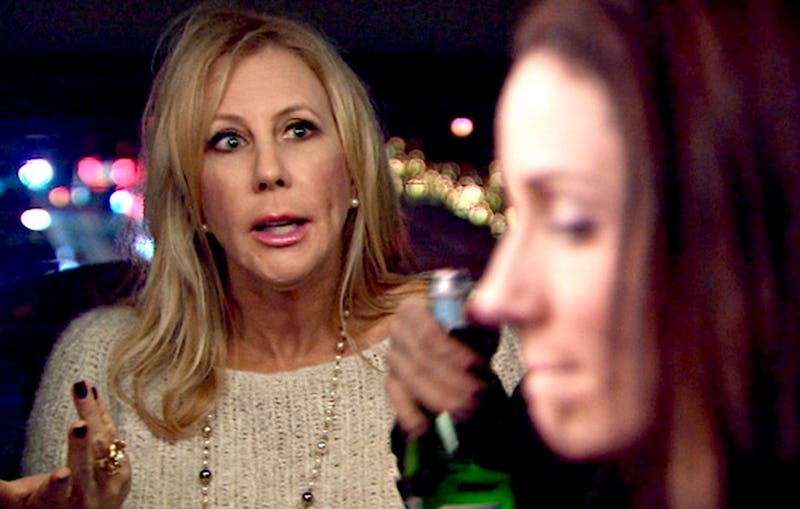 Like a recently Botoxed face, this season of The Real Housewives of Orange County is really settling in. It's found its groove. It just needed some time. As of Monday night's episode, new Housewives Shannon Beador and Lizzie Rovsek are officially a part of the RHOOC crew. All it took was a round of tequila shots! Shannon felt at ease with the cast episodes ago (she may butt heads with Heather Dubrow, but she immediately clicked with RHOOC queen bees Vicki Gunvalson and Tamra Judge), but Lizzie is having a tougher time winning over the other Housewives. And by "the other Housewives," I mean only Vicki. Tamra tells Vicki that Lizzie is a Gretchen Rossi/Alexis Bellino hybrid (I mean, not really?), and that's all the info Vicki needs. Vicki has her new nemesis. Who needs Slade Smiley, amirite?
During Monday night's episode, all of the Housewives (plus Tamra's friend Danielle Gregorio) finally get together for dinner. Been waitin' all season for this! There's a limo ride to the restaurant, and during said limo ride, Vicki and Lizzie are introduced for the first time. And during said limo ride, we find out Vicki is a vat of oil and Lizzie is a vat of water.
Within seconds of meeting the new Housewife, Vicki pulls a Brandi "I don't like your name/don't want to learn your name, so I'm gong to call you something else" Glanville. Lizzie isn't having it for a moment. Ya know, because Vicki is being rude. Vicki thinks "Lizzie" sounds like "a little girl with pigtails." CRIMENY. What is that move?! Now I can't stop picturing a Vicki and Brandi interaction:
"Vicki sounds like my aunt's name," Brandi might say.
"Oh you have an aunt named Vicki?" Vicki might reply.
"No, but it sounds like it could be my aunt's name. Her name is Paula. I'm calling you 'Aunt Paula' from now on."
"I don't like brandy," Vicki might say. "So I'm going to call you 'Vodka.' You seem more like a Vodka, anyway." Aunt Paula and Vodka high five because they're the only ones who "get it."
Sorry for that extremely necessarily digression. Back to the show! After Lizzie shares the Reader's Digest version of her life story with the limo and mentions her pageant background, Vicki all but cackles like Maleficent. "I don't ever want to be a pageant girl, " Vicki says. Rather than leave it at "to each her own," Vicki keeps pushing and says she had kids and worked hard at that age instead. Everyone else searches for an escape hatch.
"You don't have to yell at me. You're not very friendly," Lizzie responds. In a confessional, Lizzie says Vicki is insecure and jealous.
I mean... HNNNNNGH.
Dinner is served with a healthy side of "that's my chair" conflict. Vicki decides to cut the tension with a round of tequila shots for the table. The server brings everyone their shots. Everyone but Lizzie, that is. Though it's an accident, Lizzie assumes this is a passive aggressive Vicki move, which, fair.
Lizzie tells Tamra that Vicki is "very offensive." Tamra, Heather, and Shannon attempt to talk Lizzie down, but I'm not sure it works. This seems like it's just the beginning of Lizzie vs. Vicki. Shannon vs. Heather will have to get cozy on the back burner, because when Vicki has a fight, it's the entire show's fight.
Unless something miraculous happens (e.g., a friendship bracelet is presented), I think we can look forward to Vicki and Lizzie being at odds for the remainder of the season. Ah, feels like home.
Image: Bravo