The Most Memorable Prom Dresses On Screen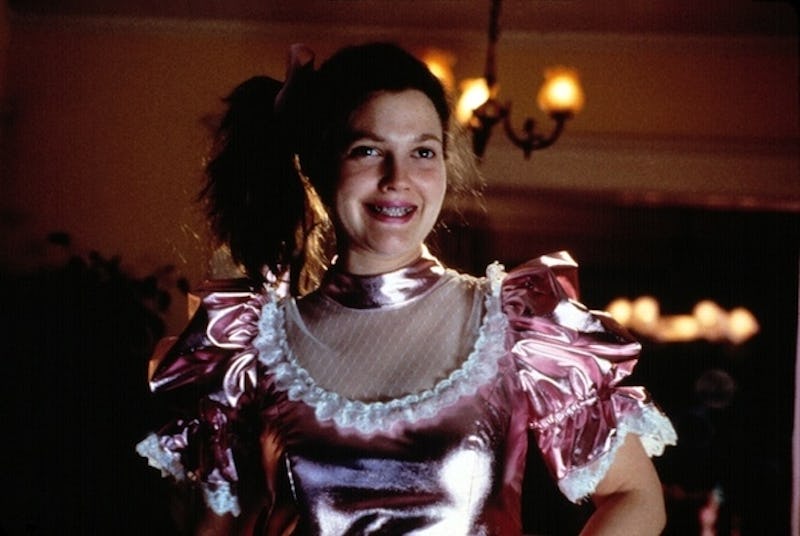 Though many of my peers would love to amnesia our entire high school experience, most of us at least have wonderful memories of prom night — the snazzy hotel ballroom, the sight of usually athletic shorts clad classmates in tuxes, the ridiculous themes (Under the Sea is an oldie, but goodie). And, when evening wear designer and prom dress aficionado Jessica McClintock announced her retirement this year, all us girls of the '80s and '90s shed a tear or two. When prom season came along, you knew you could count on McClintock's frothy creations to fulfill your ruffle wishes and sequin dreams. Pouring over her catalogue for inspiration, then picking the dress was a sacred ceremony we all looked forward to as teens.
My favorite TV shows and films served as another source of prom dress inspiration. The prom night episode was must see TV and looks from Pretty in Pink and She's All That will forever be burned into my psyche. (Special recognition goes to Rose McGowan's prom night ensemble in Jawbreaker which changed my fashion life and could probably be worn to this day.)
Here are some of the most memorable screen prom looks of the '80s and '90s sure to take you back to your adolescence — whether you want to or not.
Pretty in Pink
Probably one of the most iconic movies and dresses in '80s film history. Nice use of illusion fabric, too.
Beverly Hills 90210
Donna got super drunk that night, but her lacy mermaid dress was flawless.
Never Been Kissed
Josie had two memorable looks, but the second is the best.
Saved by the Bell
People always think of the prom where Zack creates a personal prom for Kelly, but I love the senior prom hoe down. Lisa took fringe to a new level.
Jawbreaker
She's All That
As the professional dancer shimmy around, check out Taylor Vaughan in glittery gold and Laney Boggs in classic black.
Buffy the Vampire Slayer (movie and TV show)
I don't think I could possibly pick a favorite.
Footloose
Check out Ariel's off-the-shoulder ruffles — so cute. You're dancing in your seat right now, aren't you?
Friends
This may not fall into the teen genre, but Rachel's puff sleeves are, as Chandler would say, perfection.
The Cosby Show
The episode centered around Theo's prom, but Cliff and Claire — hello canary yellow — stole the show.
Not Another Teen Movie
And to close out the list, a musical ode to prom night by the cast of Not Another Teen Movie. Best look, Janie's homemade pink number.
Images: Pretty in Pink/Paramount Pictures; Beverly Hills 90210/Spelling Television; Never Been Kissed/Flower Films; Saved By The Bell/NBC; Jawbreaker/Tristar Pictures; Buffy The Vampire Slayer/20th Century Fox; Friends/NBC