Amazing Jessica McClintock Throwback Pics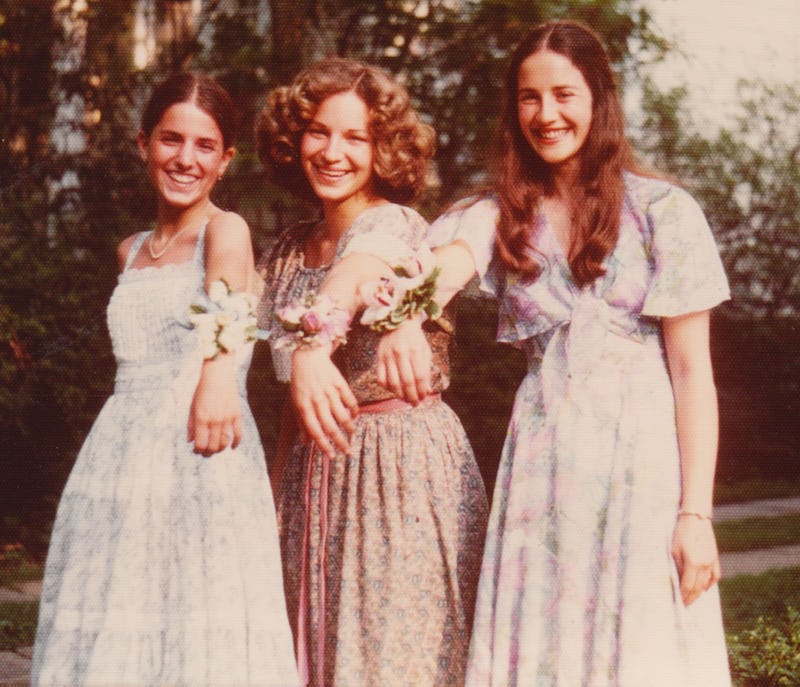 If you haven't heard the heart-wrenching news, legendary prom dress designer Jessica McClintock has officially gone into retirement, taking all of our best high school memories with her. This certainly induced a lot of nostalgia around the Bustle office, with slightly embarrassing prom pictures being IM'd around the whole staff.
You, too, probably remember the stunning silk-and-ruche combinations that made up that perfect JM prom dress in the early aughts. No window was more eye catching at the mall come March (or earlier, if you were a little prom-sessed) than the one with all her tea-length, spaghetti-strapped gowns on display.
What are kids even doing these days, if there's no McClintock to come to the rescue? Buying super sexy prom dresses for starters. And probably feeling a strange, hollow sense of longing they can't quite place.
So, in honor of The Best Night Of Your High School Career, '90s nostalgia, everyone's obsession with posting pictures of themselves from the past, and, of course, our gone-but-never-forgotten favorite purveyor of prom dresses, I took to Twitter to gather some amazing Jessica McClintock photos from Bustle readers and editors. Everyone really stepped up to the challenge — sending in everything from the kind of gorgeous to the simply cringe-worthy. Thanks for the memories, JM.
Little Black Ruching
Bustle's Social Editor Hayley quite possibly wins "Most Jessica McClintock Dress" for this sassy little number. Digging the modest knee length, as well as the oversized corsage.
Poof Party
My intern Olivia (on the right) really killed it in this one-shoulder, JM gown. Well done having your hair swept over the opposite shoulder, girl.
The JM Maxi
While knee-lengths were definitely a McClintock trope, reader Sinead proved that her maxis were just as amazing.
Red and Strapless
Reader Kaitlin explained, "I thought very old Hollywood, and my boyfriend wore a top hat and tails. With a cane. We were doing a whole Thing." I think you look like a vision in scarlet, Kaitlin.
All That Glitters
Can you spot the McClintock in this sea of dresses?
That's right, its the sparkly gold one covered in ruffles! Way to rock those retro curls, Christine.
Seafoam Sauciness
Dude. Mad kudos to reader Jaclyn (second from right) for finding eye shadow the exact same color as her embroidered JM number.
The Sweetest Thing
McClintock dresses weren't just for prom night! They dressed us for all sorts of teenage rites of passage — like reader Jordan (right) at her Sweet 16.
Pink Pizzazz
A JM gown that wasn't black, white, or red?! Alex, one of Bustle's own, really knew how to pick a standout winner.
Wild Thing
Oh. My. God. Reader Kristin's zebra McClintock is quite possibly the most perfect thing I've ever seen.
Limo Looker
Well, well, well. It appears reader Anna had quite the swaggy prom night, all "renting a limo" and what have you. Of course, no movie-ready prom would have been complete without a red McClintock dress.
Royal Navy
This is actually quite tame for a JM gown! Reader Becky's dark blue dress is still made from that signature McClintock silkiness, but without all the standard ruffles and frills.
'70s Babe
Woah. I was actually floored when Hayley's mom, Susan, passed along her seriously stunning McClintock moment (that's her in the header photo, too) from her junior prom in 1978. "I was a junior dating a senior, whose face I blocked out to protect the innocent," she said. "That was one ugly light blue/dark blue tux. Dig the ruffled shirt." Me too.
(By the way, I still want to see your awesome Jessica McClintock dresses. So send 'em my way.)