The Beastie Boys' 'Sabotage': A Brief History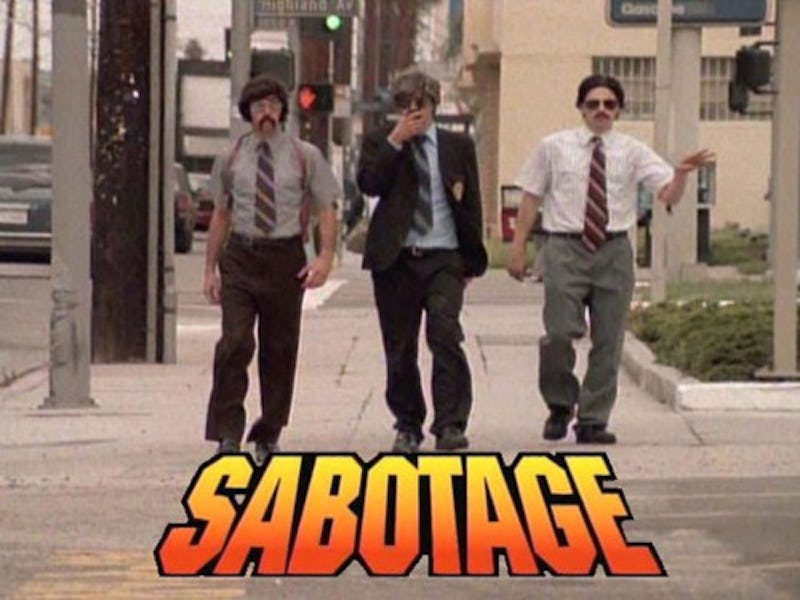 On May 23, 1994, 11 years after their first release, The Beastie Boys rocketed through our eardrums once again with their fourth studio album, Ill Communication — their second to hit number one on the Billboard charts, after 1986's groundbreaking License to Ill. (Maybe there is something in a name after all?) Ultimately going triple platinum and making it onto any number of "Best of" lists (one of Rolling Stone 's "Essential Recordings of the '90s," third ranked on NME's "Top 50 Albums of 1994"), Ill Communication clocks in at a whopping 20 tracks, from the smooth flute hook of "Sure Shot" to the distorted Gregorian chants of "Shambala" — all overlaid with the slick rhymes of MCA, Mike D, and Ad-Rock, of course.
Still, there is one song that stands out above all the others — that, in fact, has become so ubiquitous as to appear decades later in multiple pieces of media — and that song is "Sabotage." So, in tribute to this excellent album's 20th anniversary (and, always, as an extended RIP to Adam "MCA" Yauch), here is a brief history of Ill Communication's first single and its enduring pop culture cachet.
1994: The Music Video (And Ensuing Controversey)
Considered one of the most iconic music videos of the '90s, "Sabotage" was directed by recent Oscar-winner Spike Jonze and is styled as a parody of Starsky and Hutch-style '70s cop shows: In short, it features the Boys sprinting through the streets in aviators and exceedingly fake mustaches, tackling each other into pools, car hoods, piles of garbage, the works. Though it was striking enough to be nominated for five MTV Music Video Awards — including Video of the Year and Viewer's Choice — it ultimately lost out to Aerosmith's "Cryin'," which snagged three of the trophies, and R.E.M.'s "Everybody Hurts" for the other two.
In the middle of Michael Stipe's acceptance speech for the Best Direction award, however, Yauch rushed the stage dressed in lederhosen, pretending to be Jonze's Swiss friend "Nathaniel Hornblower" and grabbing the mic to protest his video's across-the-board loss. Hornblower/Yauch and Jonze were both vindicated, however, when the video won a retroactive award in 2009, in the "Best Video (That Should Have Won a Moonman)" category.
1996: In Trainspotting
Sure, the film's soundtrack consists primarily of Iggy Pop and Lou Reed, but The Beastie Boys were an influence on director Danny Boyle nonetheless. In the DVD commentary, he admits that the opening sequence, in which Renton and the gang are introduced via freeze frame while sprinting through the streets, was inspired by the "Sabotage" music video.
1998: On Phish's live album, Hampton Comes Alive
Phish, Beastie Boys — you see the through-line, right? (If you do, please tell me, because I have absolutely zero clue. And yet, here it stands, memorialized for all time in this recording...)
1999: On Saturday Night Live
During SNL's 25th anniversary special, The Beastie Boys helped pay homage to one of the show's iconic musical controversies: Just as the band started to play "Sabotage," former musical guest Elvis Costello jumped onstage and — wait for it — sabotaged the band, hijacking their performance to play "Radio Radio." In fact, Costello used the very same words as when he interrupted his own set in 1977, switching mid-song to the contentious corporate-critical hit, despite the fact that it hadn't been approved by Lorne Michaels. Costello was banned performing on the show from then on — but thankfully, he was allowed to return for what ended up being an excellent duet.
1999: On Futurama
In the episode "Hell Is Other Robots," Frye and the gang head out to see some vintage music — AKA, The Beastie Boys (or at least their heads, preserved in jars). At the end of the clip, the band launches into a barbershop quartet-like version of "Sabotage," as if to hint that nothing quite so hard-rocking could last forever. And indeed, it took almost a decade for the next major pop culture touchstone to pick up on the single — but man, what a touchstone...
2009: In J.J. Abrams's Star Trek
Here, we see that "Sabotage" was the accompaniment for James T. Kirk's first ever act of badassery — a precursor, of course, for an infinite number to come. Though the music choice may have been a bit anachronistic for a scene set in the 24th century, it's likely that the track, aside from being emotionally fitting, was chosen in order to pay back some of the tribute The Beastie Boys gave Star Trek in their lyrics. (See: "Intergalactic," "Stop That Train (Every Day Every Night)," "The Brouhaha," et al.)
2013: On How I Met Your Mother
During one of those endless hours at the Farhampton Inn, Ted frets that his calligraphy ink has ruined a signed photograph that Barney wanted to give to Robin. However, the real culprit turns out to be none other than Barney's childhood idol and wedding guest Billy Zabka, who tried to frame Ted out of jealousy after being ousted as Barney's best man. Translation? IT'S A ZABKA-TAGE. They even used the same font.
2013: The Coolest Librarians Ever Take to YouTube
In perhaps the most badass event to occur in a library since the invention of the Dewey Decimal System, the librarians of Chicago's Francis W. Parker school — herein known as "Story Time," "The Techie," and "Late Fee" — recreate the "Sabotage" music video just about beat for beat, as aided by two of the school's teachers, Mike Ferbrache and Duane Freeman, who run their own comedy Vimeo channel.
2014: Alex Trebek Raps
Earlier this May, everyone's favorite answers-as-questions quiz show Jeopardy! hosted a "Battle of the Decades" series, bringing back top scorers from its past 30 years on the air to compete for a million dollar prize. In the episode excerpted above, fan favorite and reigning champion of the longest-ever winning streak (74 episodes!) Ken Jennings proves that his encyclopedic knowledge extends even into the category of '90s rap hits; the solemnity with which he utters the phrase "Humpty Dance" is just beautiful. But even Jennings is stumped at the final $2,000 Double Jeopardy answer, when Alex Trebek raps (yes, raps) at him "I can't stand it, I know you planned it... Listen, all y'all, it's a ...?"
As the time's-up buzzer sounds, Trebek raises his eyebrows and, as if incredulous at their ignorance, intones, "It's a sabotage? Yes."
Right on, Alex.
Image: Beastie Boys/Spike Jonez; CBS