'RHONJ's New Housewives Are Impressive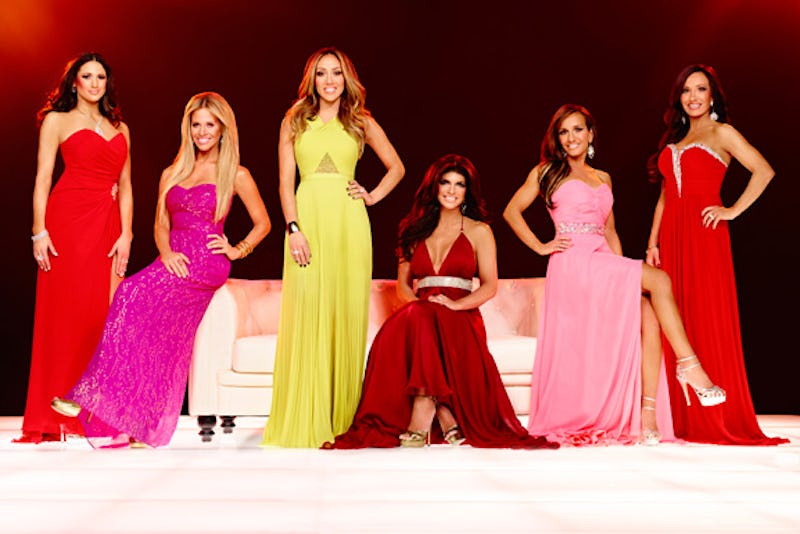 The sixth season of The Real Housewives of New Jersey is already drama filled and it hasn't even started airing yet. As we know, Teresa and Joe Giudice are a big contributor to the build up with their fraud charges and sentencing coming up on July 8 just days before the show's premiere on July 13. Another fact that is sure to bring increased drama is the show's new lineup. Bravo announced that Real Housewives of New Jersey will have three new cast members and one returning housewife who hasn't been around for four seasons: Dina Manzo.
Long time fans know that Dina was on the first season of the show and part of the second season. In the crazy family tree of RHONJ, Dina is Caroline Manzo's sister as well as sister-inlaw — they both married Manzo brothers; although Dina is now separated. Dina is also sister-in-law to Jacqueline Laurita. This show is very confusing, but if you're reading this article, you probably understand all the intricacies already, right? Right.
While Dina is making her comeback, Caroline, Jacqueline, and Kathy Wakile are all leaving the show but according to Bravo, Kathy will continue to make appearances. Teresa Giudice and Melissa Gorga are the only cast members from season five sticking around.
As for the new housewives, they all look like real housewives of New Jersey (don't feel too bad if it takes some time to tell them apart, two of them are twins), but have completely different careers. Here's a bit about each one:
Amber Marchese
Amber was an old friend of Melissa's before they had a falling out and, according to Bravo, Amber will attempt to repair this relationship. Amber has a Masters in Bio-Behavioral Studies/Exercise Physiology from Columbia University, but decided to move on to a second career as an actress after she was diagnosed with breast cancer and received a double mastectomy at age 31. If it sounds like this woman has a lot going on, you're right and there's more. Amber also raises four children; two from a previous relationship and two step-children from her marriage to current husband James. Bravo also notes that she, "Kisses her dog right on the mouth" because that's totally as important as everything else.
Teresa Aprea
Teresa owns three popular restaurants with her husband Rino, who she was divorced from for 11 years before remarrying in 2010. The two have an 18-year-old son together. Teresa loves travelling, fashion, and "planning amazing soirées and dinner parties." Okay, so now we know where the crazy events are going to go down.
Nicole Mauriello
Nicole is Teresa's twin and they are BFFs. Nicole is a divorced mother to two teenage boys. Like the other two new housewives, Nicole has some impressive credentials. "She ran a family restaurant at 20-years-old, studied at St. John's University, as well as at the American University of Rome." Nicole now works in private aviation "for a premiere jet charter brokerage handling high-profile clients helping them globe-trot around the world."
I've gotta say, I'm pretty impressed by these new real housewives. Right now is such an innocent time where we can appreciate them for their accomplishments and seeming like nice people. Soon all of that will never mentioned again because this show is about yelling and throwing cocktails in people's faces. At least we can hope that there will be an episode where Amber uses her immense knowledge of bio-behavioral studies to provoke Teresa Giudice into flipping a table.
Images: Bravo