Are You Ready For Nutella-Stuffed Cronuts?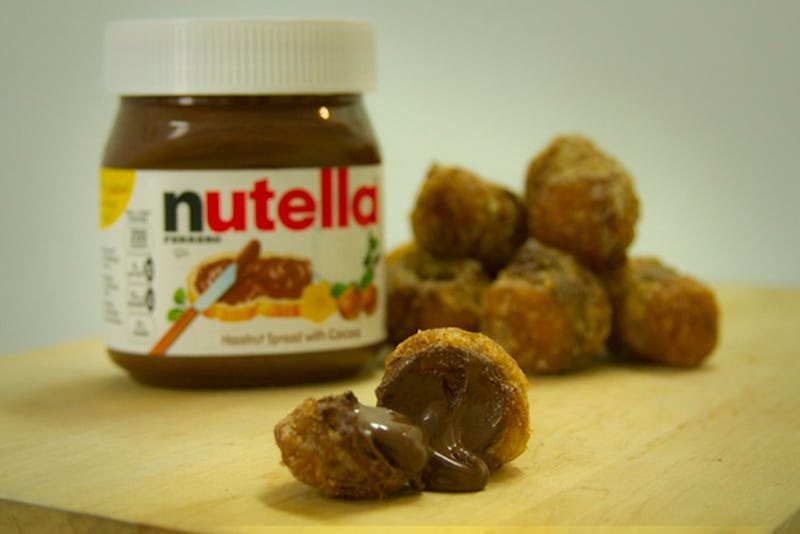 Listen up, New Yorkers. This is not a drill. To celebrate its 50th birthday, Nutella is teaming up with the notorious Cronut to bring you — Nutella-stuffed Cronut Holes. Yes, you read that right, Nutella-stuffed Cronut Holes. The little golden balls of heart-attack-inducing goodness will be available for one day only, so put it in your calendars — Monday, May 19. They'll be at the Broadway pedestrian plaza between 23rd and 24th Streets from 10 a.m. to 2 p.m. Get there early, we say. Like, maybe 6 a.m.
In honor of this momentous event, we've racked our brains to come up with other wondrous hybrids that are just aching for a Dominique Anselm-style genius to get a hold of...
1. The Croreo — imagine this: Oreo cookie turned into a crepe, and then spread with delectable Oreo cream. Someone should get that onto a food truck right now. Like, right outside the Bustle office, please.
2. Friendly's Ice Cream (S)Cone — the waffle cone is so last millennium. Let's make cones out of chocolate chip scones! And then fill them with delicious Friendly's ice cream! Trust us, it's the next big thing...
3. Reese's Peanut Butter Chocolate Croissant — every food can benefit from being stuffed inside a croissant and gently warmed. Someone needs to get on this.
4. Girl Scout Cookies 'n' Cream Pie — Overbought on the Girl Scout cookies this year? Easily done. Just whizz up the leftovers in a food processor and make them into the base for a yummy cream pie.
5. The Sour Patch Toffee Apple — a tangtastic and, dare we say, genius addition to this Halloween classic. After dipping your apple into the warm toffee, dunk it in a pile of all that face-contorting dust at the bottom of a bag of Sour Patch Kids. Bet you can't eat a whole one.
Image: Nutella