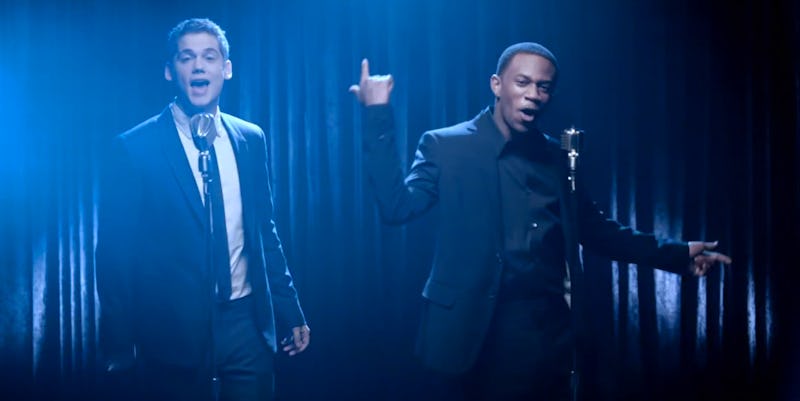 Who or what is MKTO, exactly? Well, I'll tell you this: you've probably heard their music on the radio before and not even realized it! MKTO is an American pop duo made up of members Malcolm Kelley and Tony Oller. The two guys have had major success in countries like Australia and New Zealand, but they've had a tough time cracking the United States. Until now, that is. Currently, MKTO's criminally catchy single, "Classic," is climbing the U.S. charts — but many people still haven't even heard of the band! Well, it's time to change that.
Let's take a moment to get to know the two talented gentleman of MKTO. Who knows? These guys just might end up becoming America's next big sensation.
The name "MKTO" came from combining Kelley and Oller's initials, but it also carries a deeper meaning. The band told New Zealand radio station The Edge in an interview last year that MKTO stands for "Misfit Kids and Total Outcasts" — which is how both guys always felt in high school. Now if that's not endearing, I don't know what is.
Both Kelley and Oller are actors by trade — you may recognize Kelley from ABC's Lost or Oller from Disney's As the Bell Rings — but the two actually first met in 2010 on the set of Nickelodeon's Gigantic (where they played best friends). The two guys really hit it off, so naturally, they decided to form a band! Kelley and Oller started posting cover songs to YouTube, and in no time, they had caught the eyes of producers Evan "Kidd" Bogart (Beyoncé's "Halo") and Emanuel Kiriakou (Hot Chelle Rae's "Tonight Tonight"). Before long, they had landed a recording contract with Columbia Records.
MKTO released their first and only self-titled album earlier this year. If you like catchy, radio-ready pop songs (who doesn't?), you're in for a real treat. Let's take a listen to the four MKTO singles that have been released so far.
"Thank You"
This is the song that started it all. "Thank You" is MKTO's sarcastic ode to the previous generations for (supposedly) mucking up the world. The chorus is a total earworm, though something tells me the guys might end up regretting recording this one in a few years when their own generation is being blamed for various atrocities. Just a hunch.
"Classic"
Currently sitting at number 16 on U.S. iTunes (and number 27 on the Billboard Hot 100 chart), "Classic" is a fun track dedicated to a classy girl whose unsurpassed beauty and charm never goes "out of style." This slice of up-tempo pop will definitely have you dancing, but at just under three-minutes long, it will probably also leave you wanting more. (Solution: play it again!)
"God Only Knows"
"God only knows how much I need you / I could explode if I can't breathe you / I'm on the ropes / 5, 4, 3, 2 / 'Cause you're the one," Oller sings on the chorus to the sugary sweet, "God Only Knows." Ahhh. Doesn't that just make you want to breathe a heavy sigh of, "Gosh, I wish someone would sing that about me"? You know the sigh I'm talking about.
"American Dream"
On their latest single, MKTO advises youngsters to live life to the fullest and to always choose what makes them happy over chasing an outdated, idealized "American dream." Sage advice! "We don't want two kids and a wife / I don't want a job, I just want a life," Kelley raps on the song's first verse. This one is quite epic.
There you have it! That's MKTO. Are you sold? At the very least, you can now impress your friends by knowing who they are when you're all jammin' along to "Classic" on the radio. MKTO's self-titled debut album is available on iTunes now. Check it out!
Image: YouTube