This Alligator Had a Very Expensive Dinner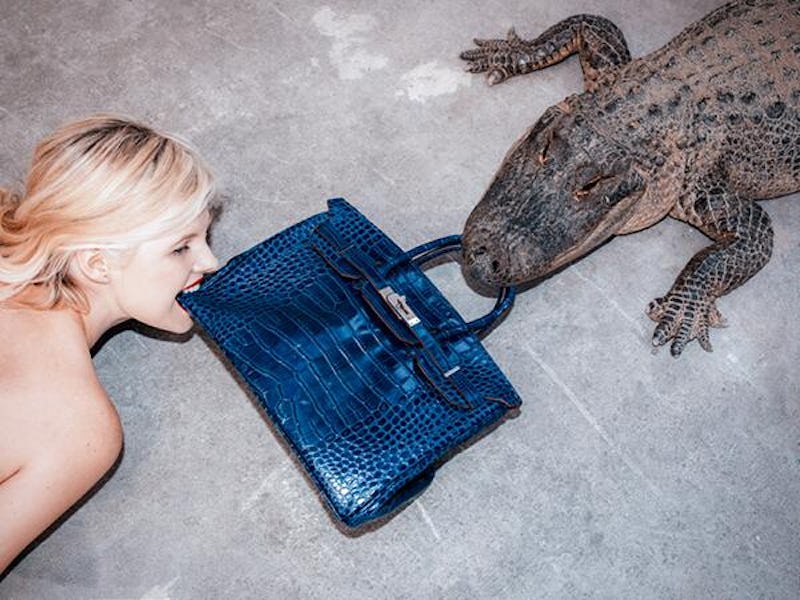 Wow, Hermes may want to consider bringing back the wait list for the Birkin bag — and running background checks! Photographer (and known Birkin-destroyer) Tyler Shields just fed a $100,000 crocodile skin Birkin to an allegator and documented the whole thing.
Shields snapped photos as actress Ana Mulvoy-Ten fed the animal a blue Hermes Birkin bag which apparently took seven months for him to obtain. The photographer, whom The Gloss describes as "the cheap knockoff of a Terry Richardson doll," told the Daily Mail that he and Mulvoy-Ten were "inches from death at any moment." Which, well, duh. Mulvoy-Ten also took a few shots at the purse with her own teeth.
"At one point during the shoot when Ana and the gator were both biting the bag it closed one of its eyes as if it was going to attack her, but did not,' he revealed to MailOnline. 'It was one of the most insane moments I have ever photographed."
We can only hope that a trained animal handler was on set to prevent real disaster, but Shields doesn't go into detail on that. Perhaps having a professional on hand to corral the alligator would harm his rouge artist credibility.
I'm not entirely certain what Shields wants to accomplish by making a habit out of destroying $100,000 purses in adventurous ways. He's probably trying to say something about the fashion industry, animals, blah blah blah, but none of that translates here. What translates is that he purchased a very expensive Birkin only to destroy it on camera while the big shots at Hermes laugh all the way to the bank and Jane Birkin rolls her eyes somewhere in France. Shields comes across like a little boy who lit the kitchen table on fire because mommy wasn't paying attention.
The alligator images will be featured in Shields' latest installation, called "Indulgence," at the Guy Hepner gallery in Los Angeles and Imitate Modern gallery in London. As for the Birkin...I'm sure Shields would give you a pretty steep discount if you're interested in a purse covered in teeth marks and dried gator droll.
Image: tylershields/Twitter