This Guy Threw A Porn Star Off A Roof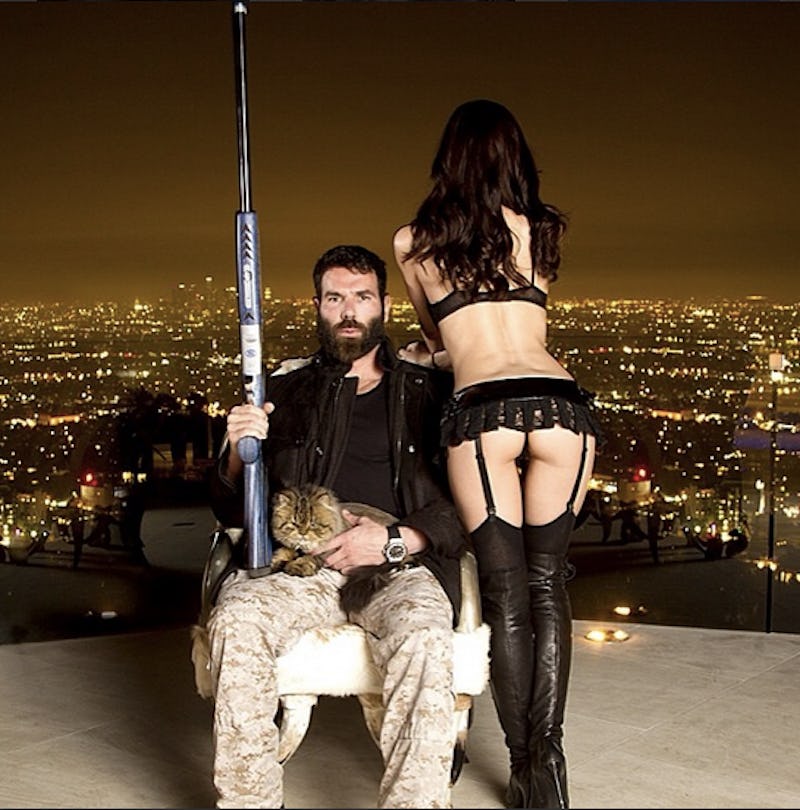 In one of the strangest sentences we'll ever write, professional poker player Dan Bilzerian is being sued by the porn star he threw off a roof during a Hustler photo shoot. Dan Bilzerian, who first gained notoriety for his absolutely absurd Instagram pics, has truly managed to outdo himself. Last month, he threw model and porn star Janice Griffith off a roof and into a pool, whereupon Griffith clipped and broke her foot on the pool's edge. The 18-year-old (yeah, she's a teenager) called into TMZ last month to discuss her plans for suing both the magazine and Bilzerian.
At the time, it seemed like an open-and-shut case. After all, who doesn't win a lawsuit after being chucked off a roof, and even better, having it caught on tape? But unfortunately for Griffith, Bilzerian's wealth doesn't just come with fancy yachts, fast cars, and good food. It also equips him with a high-powered and snarky-as-hell lawyer.
When Bilzerian's lawyer caught wind of Griffith's plans to sue for $85,000, a sum she claims would cover lost wages as a result of her pool-induced injury, he immediately sent her a letter in response. And it is either the worst or the best thing that you will ever read.
For context, here is what happened to Griffith. Honestly, it looks terrifying.
And here is the lawyer's letter, as first obtained by Total Frat Move:
Alright, let's break this puppy down, shall we?
It begins nicely enough — the salutation is present and polite, and we can only expect that the lawyer will apologize profusely for Griffith's injuries. But then, the apology takes an unexpected turn.
It is embarrassing to suggest that Bilzerian is to blame for Griffith's injury, even though he threw her from a roof. And while the lawyer is sorry that Griffith was hurt, he is also sorry that he had to receive a letter about it, and more sorry that he had to write a letter in response. He seems to really dislike writing.
After directing our attention to the video, the lawyer continues,
Ah, so there was something we didn't know! It turns out that Griffith had, in fact, agreed to be thrown off a roof! The lawyer also wisely points out that such a stunt is probably better photoshopped, but in the interest of artistic integrity, it seems that Hustler opted for the real deal instead. Well, Griffith may have said ok to taking a tumble off a roof, but she never agreed to get her foot broken in the process!
Unfortunately, the lawyer has an answer to this too.
Ok ok fine, it sank in. And we get it, it's a little absurd. But hey, in Griffith's defense, maybe Bilzerian was negligent. Maybe if he'd put some more muscle into it she would've missed the edge of the pool!
Not so, says the lawyer.
The ultimate coup de grace, delivered by a non-physicist lawyer. Ouch. To be fair, we're not so sure that if Griffith hadn't reached out and grabbed Bilzerian's shirt, she would've landed "safely" in the pool. But the lawyer is right, inanimate objects without opposable thumbs (like shirts), cannot reach out and grab women falling from a roof into a pool.
So really, says the lawyer, the lawsuit is doomed.
Whoa, whoa, whoa. What exactly is the problem with small yappy dogs? Also, violence against animals is not funny, lawyer. Check yourself before you wreck yourself. But fine, the complaint will be "frivolous." We can accept that, we guess.
The lawyer's closing may be the best part of the entire letter.
Oh, we enjoyed it too, lawyer. We enjoyed it too.
Image: Dan Bilzerian/Instagram