'Glee' Turns 5, Let's Rank Their Best Performances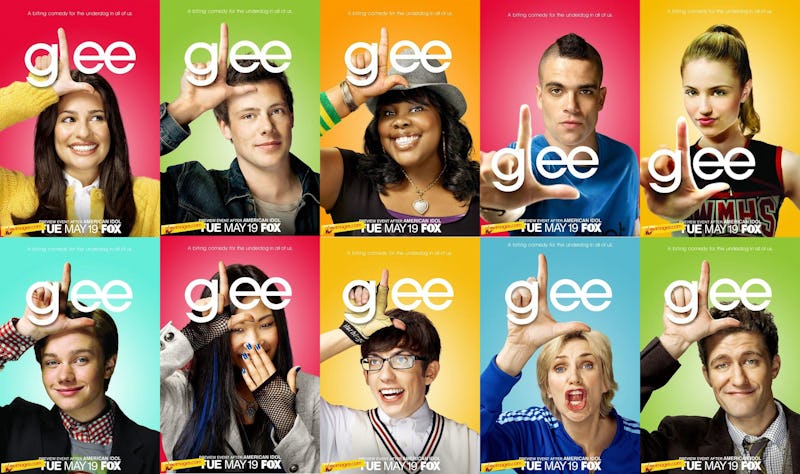 Five years, five seasons, 108 episodes, and over 600 (SIX HUNDRED!) musical performances later, we're getting ready to bid farewell to Glee as it heads into its sixth and final season. They certainly didn't get there without hardship or controversy, though. No one ever thought a show like Glee would work. I mean, a bunch of twentysomething actors posing as high school kids singing songs from Sondheim to Barbra Streisand to Vanilla Ice on prime time television? It hardly seemed plausible, but somehow with its quick wit, cast of unknowns, and mainly untapped reserves of talent, everything that seemed odd about the program is what ultimately worked for it. The show about championing the underdog was the underdog itself. And boy, did they show everyone.
Arguably, the one thing Glee has never faltered on in the past five years has been the music, where the heart of the show lies. They've done some truly amazing covers that have appealed not only to the kids watching the show, but the parents who watch with them. If Glee had to claim one sole success out of the many it's achieved, it should be that they have taught today's youth that there is so much more than the Top 40 hits and that there is merit is music of all kinds. In honor of the impact Glee has had, we've decided to rank its top best 65 performances from the last five seasons (and I assure you, it was not easy limiting it to 65).
Here's our list of the best performances that have made us laugh, cry, clap, and dance along since 2009:
65. DON'T SPEAK
64. DOO WOP (THAT THING)
This was GOOD.
63. POMPEII
The reason we loved this so much was that it gave us that early Glee feeling late in the 5th Season when things seemed awry.
62. ALL THAT JAZZ
61. SMOOTH CRIMINAL
60. SONGBIRD
Arguably Naya Rivera's best vocal performance.
59. LAST CHRISTMAS
December isn't the same without hearing Lea Michele whispering "Christma.s"
58. FORGET YOU
57. SOMEWHERE ONLY WE KNOW
I mean, Darren Criss, that is all.
56. THE SCIENTIST
Powerful and heartfelt performance by all. One of the bright lights in the 4th season.
55. TAKE ME OR LEAVE ME
Perfection.
54. I DREAMED A DREAM
53. GET HAPPY/HAPPY DAYS ARE HERE AGAIN
I'm not sure if I love this performance or I love it because Lea Michele and Chris Colfer look like they're having the time of their lives.
52. THE SAFETY DANCE
Artie can break it down!
51. PUSH IT
I still hysterically laugh to this day watching it. This is what made Glee, Glee.
50. BORN THIS WAY
Iconic.
49. YOU'RE THE ONE THAT I WANT
I love the character transformation from the first performance to the last.
48. LEAN ON ME
So. Many. Feelings.
47. YOU GET WHAT YOU GIVE
I felt like I was graduating all over again watching this, such a great deliverance by the "seniors."
46. SO EMOTIONAL
This made us too question why Rachel and Santana had waited so long to duet with their amazing vocals and fired up attitudes.
45. FOR GOOD
I mean...
44. SHAKE IT OUT
Hauntingly beautiful.
43. MY LOVE IS YOUR LOVE
*Warm Fuzzies*
42. I WILL ALWAYS LOVE YOU
Sang it, Mercedes.
41. THE FIRST TIME EVER I SAW YOUR FACE
Who cut those onions?!
40. HOMEWARD BOUND/HOME
Love, love, LOVE this mash up.
39. MARRY YOU & JUST THE WAY YOU ARE
I wish I could've attended the Hudson/Hummel wedding. It looked like the bomb.com.
38. AND I AM TELLING YOU I'M NOT GOING
~DIVA~
37. COUGH SYRUP
Probably one of Glee's most poignant songs/montages. I was left gutted after watching it.
36. JESSIE'S GIRL
Everything about this, YES. Cory Monteith was such a dreamboat.
35. GLORY DAYS
34. RIVER DEEP — MOUNTAIN HIGH
One of my favorite duets of the series. SO MUCH FUN!
33. I WANNA HOLD YOUR HAND
You're killing me, Smalls.
32. IF I WERE A BOY
Amazing how they transformed this song.
31. JUST THE WAY YOU ARE
Loved the song in relation to the dynamic of this group. Plus it sounded freakin' amazing.
30. KEEP HOLDIN' ON
</3
29. START ME UP/LIVIN' ON A PRAYER
28. JUMP!
This was the greatest and I lived vicariously through them as they fufilled everyone's childhood fantasy of mattress jumping.
27. I'LL STAND BY YOU
It's hard to watch this now, but Monteith showed so much depth so early on in his portrayal of Finn Hudson.
26. IMAGINE
So very poignant.
25. TOTAL ECLIPSE OF THE HEART
This may be the only reason I ever got the Old School version out of my head.
24. WE'VE GOT TONITE
So much romantic/sexual tension, one of the best songs in later Glee.
23. BARRACUDA
Adam Lambert and Lea Michele, that is all.
22. I'M A SLAVE 4 U
Heather Morris is a god.
21. SINGING IN THE RAIN/UMBRELLA
20. OPEN YOUR HEART/BORDERLINE
This solidified their rank as the top couple on Glee/In life. I'm swooning.
19. VALERIE
This was Naya Rivera's first real shot at a solo and she KILLED it.
18. LIKE A VIRGIN
17. RUMOUR HAS IT/SOMEONE LIKE YOU
16. DON'T RAIN ON MY PARADE
Obviously.
15. WE FOUND LOVE
Glee, ruining normal proposals since 2012.
14. WITHOUT YOU
Seriously, was there any question that these two were dating?
13. NO ONE IS ALONE
Honestly, I haven't stopped listening to it since it aired. The vocals are perfect. PERFECT.
12. YESTERDAY
Lea Michele channeled her heartbreak into something beautiful.
10. NATIONALS 2012 (EDGE OF GLORY, IT'S ALL COMING BACK TO ME NOW, PARADISE BY THE DASHBOARD LIGHT)
I mean if they didn't actually win Nationals, they sure won it in my heart.
9. THRILLER/HEADS WILL ROLL
So bad ass.
8. TO SIR, WITH LOVE
<3
7. BETH
Still crying about this...
6. MAKE YOU FEEL MY LOVE
This just goes without saying. You can feel it.
5. I FEEL PRETTY/UNPRETTY
Best mash up hands down of the entire series.
4. BOHEMIAN RHAPSODY
Jonathan Groff slayed it.
3. DON'T STOP BELIEVIN'
This song/performance IS Glee.
2. FAITHFULLY/JOURNEY MEDLEY
That, ladies and gentlemen, is a duet.
1. SOMEBODY TO LOVE
Everything Glee embodies-- unparalleled singing, cheesy choreographed dancing, and the undeniable chemistry between the group.
We salute you, Glee. Here's to making the 6th season everything it ought to be.
Image: FOX