'Wet Hot American Summer' Is King of Summer Comedy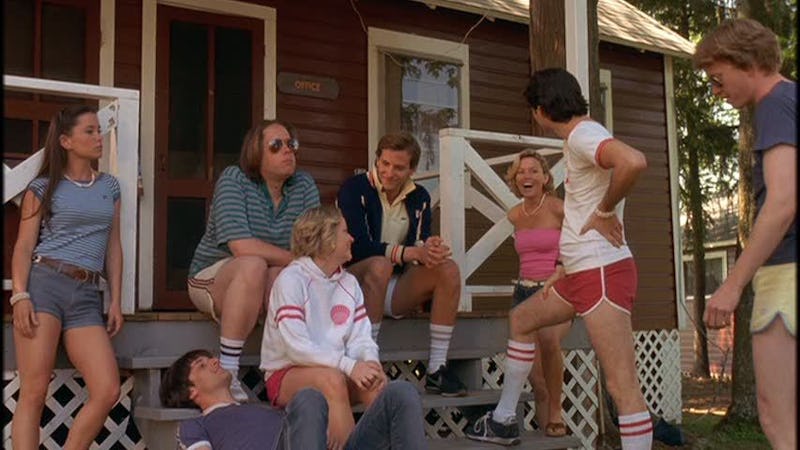 It's Memorial Day, which means we're in prime summer movie season! What do you look for in a summer movie? Laughs? Romance? Action? Paul Rudd? What if I told you there was one movie that has all of that, AND H. Jon Benjamin voicing a can of mixed vegetables? Released in 2001 but set in 1981, Wet Hot American Summer is cult comedy giant The State's answer to classic summer camp movies like Heavyweights, Indian Summer, and Meatballs. It takes place on the last day of a summer at Camp Firewood, where a big cast of alt comedy's elite (and a few notable soon-to-be-movie-stars like Rudd and Bradley Cooper) are the counselors and everything is about to go balls-to-the-wall insane.
Even though it was initially dismissed by critics (one out of four stars from Roger Ebert!), Wet Hot American Summer found its footing with pockets of devoted comedy geeks from around the country, who spread it to their friends and colleagues, and soon those friends and colleagues were preaching the gospel of Michael Showalter, for hella funny is he, forever and ever, amen.
It's rare that a movie like Wet Hot comes along, and goes from a parody of the classics to a classic itself. But we are so glad that it did, because now it's the only movie we need this summer, no matter how wet or hot it gets. Here are just a few of the reasons why.
Because Paul Rudd
Because Michael Showalter
Because Elizabeth Banks
Because David Hyde Pierce
Because H. Jon Benjamin
Because Amy Poehler
Because Christopher Meloni (and Tonight Show head writer A.D. Miles)
Because Bradley Cooper and Michael Ian Black
Because Ken Marino
Because Joe Lo Truglio
Because Molly Shannon
(Even though this gif is from Superstar)
Because Marguerite Moreau
(Why wasn't she in more after this?)
Because Janine Garofalo
(Oh man is she excellent in this movie)
Because Friendship
Because Sports
Because Dance
Because Love
Because Look at Them!
Because Sometimes It's Nice to Go Into Town, Even If It's Just For An Hour
Images: USA Films; giphy.com