The World's First (Oily) Nip Sync Duet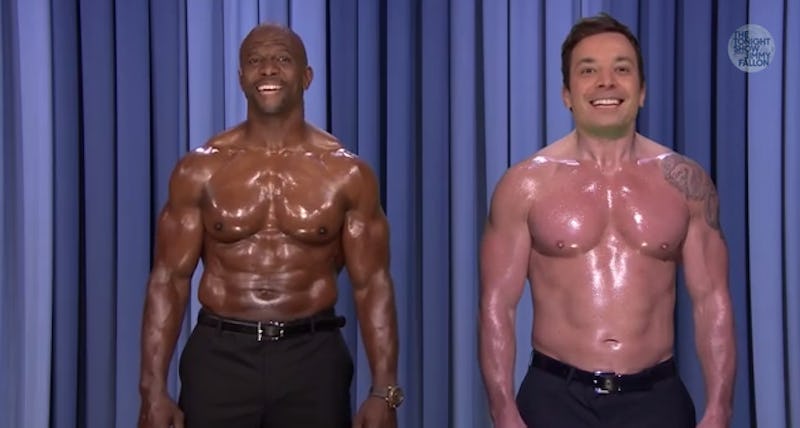 Wanna see the world's first nip sync duet? Maybe it doesn't sound appealing right away, but this is history! And you should probably take the opportunity while you have it. Terry Crews and Jimmy Fallon performed a nip sync of Stevie Wonder and Paul McCartney's duet "Ebony and Ivory" and it was pretty niptacular. In case you don't know what nip syncing is (which would make sense seeing as it is not very popular... yet), it's singing a song while your pecs flex along to the beat. There's also a hefty amount of oil involved.
You may have noticed something strange in the above still of Crews and Fallon and you're on to something... I didn't know Jimmy Fallon had that huge shoulder tattoo either. Just kidding! You're probably surprised to see that Fallon is so ripped. What can I say? He must have really trained hard at holding his head straight in front of a green screen.
Now I've gotta warn you, this video requires you stare at shiny, bouncy chests for two minutes, so while it isn't exactly unsafe for work, it is if you want to avoid embarrassment. There's also some pretty intense boob harmonizing. Prepare yourselves.
Image: NBC