We Need To Stop Calling Chirlane A 'Bad Mom'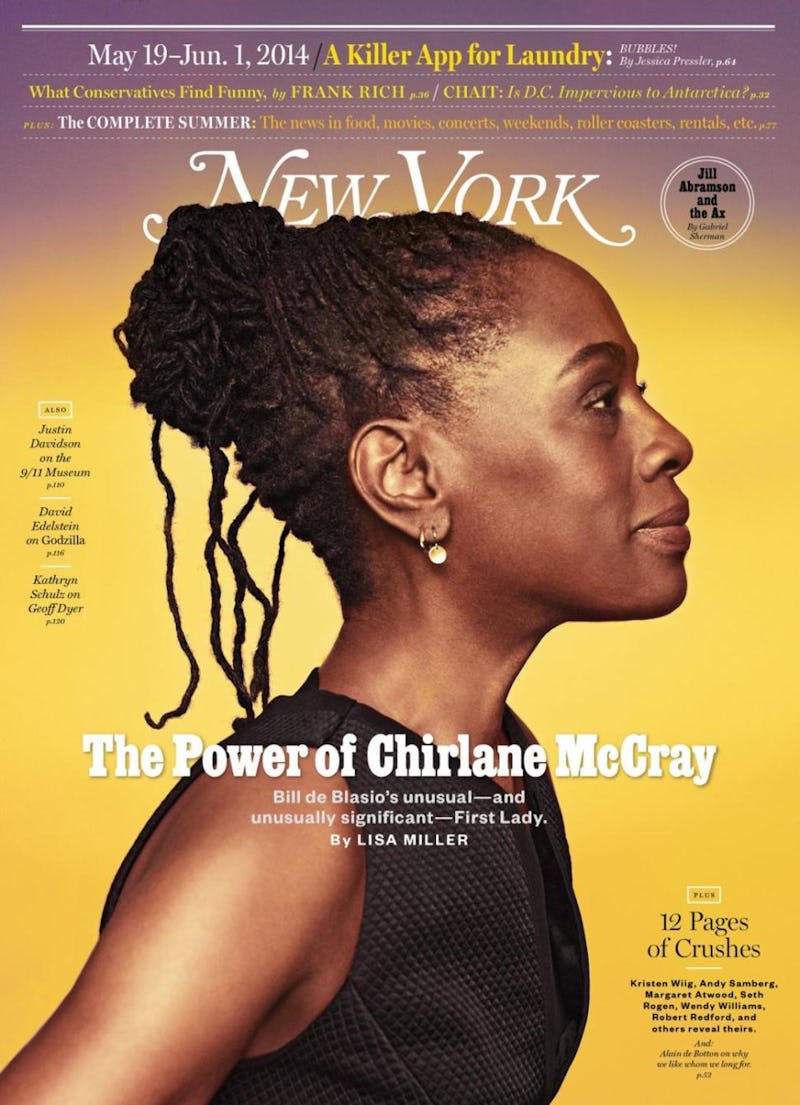 In a much-talked-about cover story this week, New York Magazine wrote about the life of Chirlane McCray: writer, poet, feminist, wife of New York City Mayor Bill de Blasio, author of "I Am a Lesbian," and total badass. Yet, for some reason the only thing anyone seems to be talking about is if Chirlane McCray is a, quote unquote, good mother. In her interview with NY Mag reporter Lisa Miller, McCray spoke about her experience transitioning from a working woman to new mother. Of the time after her daughter Chiara was born, McCray said:
I was 40 years old. I had a life. Especially with Chiara—will we feel guilt forever more? Of course, yes. But the truth is, I could not spend every day with her. I didn't want to do that. I looked for all kinds of reason not to do it. I love her. I have thousands of photos of her—every 1-month birthday, 2-month birthday. But I've been working since I was 14, and that part of me is me. It took a long time for me to get into "I'm taking care of kids," and what that means.
McCray's honesty has sparked a number of ludicrous news headlines, like the New York Post's catchy front page title, "I Was a Bad Mother." The NY Daily News stretched the truth even further with the headline, "Didn't want to be a mom: Chirlane's sorrow." Too bad they couldn't snag a photo of Chirlane crying while shunning a newborn baby.
Mayor DeBlasio has come out in his wife's defense. On Monday, Mayor de Blasio chided newspapers for coverage he referred to as "disturbing and inappropriate," and said that McCray is "an extraordinary mother." He's not alone in his defense. #StandWithChirlane is trending on twitter thanks to the New York City chapter of the National Organization of Women who first tweeted the hashtag last night.
Yesterday, The New Yorker senior editor Amy Davidson penned a piece called "We Are All Bad Mothers," in which she criticizes the coverage of McCray's interview and asks The New York Post how they thinks a "good mother" should act? Davidson's piece asks some probing questions, but we're still confused about why we're looking to The New York Post for mothering advice at all.
Mayor de Blasio's family was a focal point of his campaign, and personal details have often been shared with the press. In December, Chiara de Blasio, the mayor's daughter, shared a very real perspective on drug and alcohol addiction that won her an award from health and human services secretary Kathleen Sebelius.
In her acceptance speech, Chiara thanked her "amazing, unconditionally loving, and unbroken family" and specifically her mother. There's an interesting tidbit for anyone passing judgement on other people's mothering styles.
Image: New York Magazine