The Least Happy Meal Ever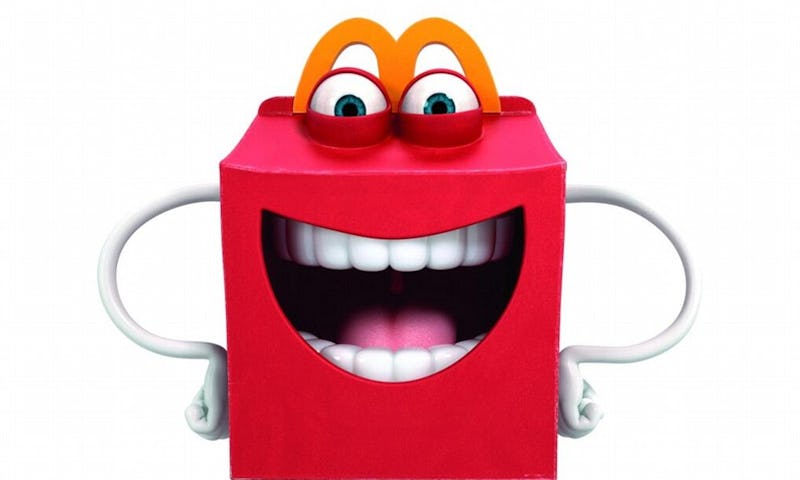 Seriously, who's working in branding these days?? It appears last Sunday was indeed an "unveil your new creepy mascot day" — not only did Lemonhead bring us looks-an-awful-lot-like-a-stalker Lemonhead 2.0, Mickey D decided to unleash its new McDonald's Happy Meal Ambassador, "Happy". And trust us, this animated Happy Meal box with teeth is not going to make you feel happy.
In a press release announcing the new "ambassador" and promoting a new partnership with Go-GURT Low-Fat Strawberry Yogurt — a 50-calorie yogurt developed especially for McDonald's and due to be offered as a children's side from July 4 onward — McDonald's said that they are "always looking to bring fun and happiness to families."
McDonald's today introduced "Happy," a new animated Happy Meal character that brings fun and excitement to kids' meals while also serving as an ambassador for balanced and wholesome eating. Happy will be introduced nationwide May 23, and will encourage kids to enjoy fruits, vegetables, low-fat dairy and wholesome beverages such as water or juice.
Well, as far as we — and most people on Twitter — are concerned, "Happy" screams neither "fun" nor "excitement." In fact, watching a Happy Meal box with giant gnashers talk about the wonders of fruits and veggies is probably going to put a child off healthy eating for life.
Apparently, Happy has been around for awhile in other countries, first unveiled in 2009, but this is the first time the U.S. market is getting to enjoy him. According to a statement from a McDonald's spokesperson, children and families in Latin America and Europe love him. Well, first reactions on Twitter stateside have been less than complimentary:
McDonald's is hanging in there, adamant that a few people on Twitter don't reflect the views of the nation as a whole.
"Social media is a great place to have a conversation and express an opinion, but not all comments reflect the broader view," a company spokesperson said in a statement.
We're not convinced. In fact, this time social media seems to be spot on. If you need further convincing of the scariness of this new mascot, you need only head over to the McDonald's Facebook page where you can watch this terrifying video of lots and lots of dancing Happy Meal boxes with teeth.
Yep, that ought to do it.
Images: McDonald's/Facebook