Denise Huxtable's 15 Most Stylish Moments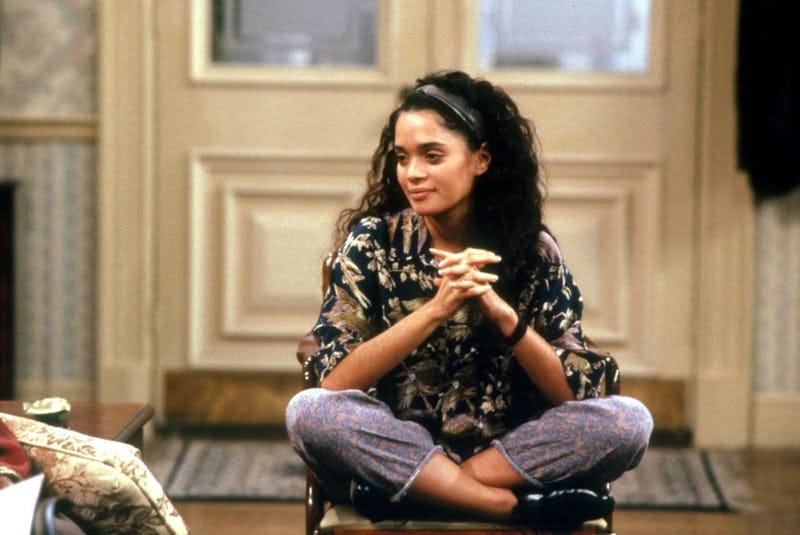 Watching The Cosby Show season premiere, with its ever changing sets and choreography, warranted buttered popcorn and couch cozying in my household. Not only was the show ridiculously hilarious, but it was one of the first to depict black people just being people. The Huxtables weren't gang members, prostitutes, or solving crimes with an attitude, they were just people living life and I loved seeing faces like mine staring back at me.
The show holds a particularly special place in my heart because of the fashion. Many of the most memorable moments centered on the cast's clothing — see Theo's custom made Gordon Gartrelle shirt and the famed Cosby sweater. The Cosby Show costume designer Sarah Lemire prided herself in finding clothes that people would talk about, per Bill Cosby's request, and did it with a weekly budget of $3000 for the whole thing. Impressive.
The character with the most daring sartorial exploits — and my personal favorite — was Denise Huxtable played by Lisa Bonet. Denise was the family wild child and her clothing expressed the inner rebel. Lemire took a lot of risks with Denise's wardrobe and, as a result, created a style icon along the lines of Carrie Bradshaw and the cast of Gossip Girl. While well suited for the '80s, the mix of boho punk would mesh perfectly with any current street style blog or indie magazine, which is a testament to Lemire's talent as a designer.
Here are 15 moments Denise Huxtable made fashion waves like no other Huxtable could — and I loved her for it.
Queen of Layers
From one of the first episodes, this look set the tone for the rest series.
Fearless Makeup
So very '80s and yet I think I saw this look the other night at dinner.
Hat Love
An updated pillbox hat with an urban feel.
Hat Love 2.0
She was a hipster before they were born.
Preppy Cool
Who knew a prep school blazer could become something so downtown chic?
Uptown Realness
Though she was comfortable in the Lower East side, she could do Upper East too.
Fashion Never Sleeps
Even her night clothes were chic.
Art Deco Asian Inspired
She's equal parts Great Gatsby and Madame Butterfly.
Haircuts Hit the Mark
Her boyish tapered haircut is still worn by women today — including yours truly.
Animal Print Sophisticate
This look leaves me speechless.
Edgy Evening Wear
Check out the cut-out back of her gown.
Dreds on Network TV
Probably the first time I ever saw dredlocks on TV.
Modern Boho
She looks like a gypsy, but still pulled together.
Athletic Wear As Everyday Wear
Sweatpants matched with a button down? Yes!
Cosby Sweater of Her Own
Dr. Huxtable wasn't the only one with serious knitwear game.
Images: Carsey-Werner Productions/NBC