5 Things We Learned from Tory Burch's Grad Speech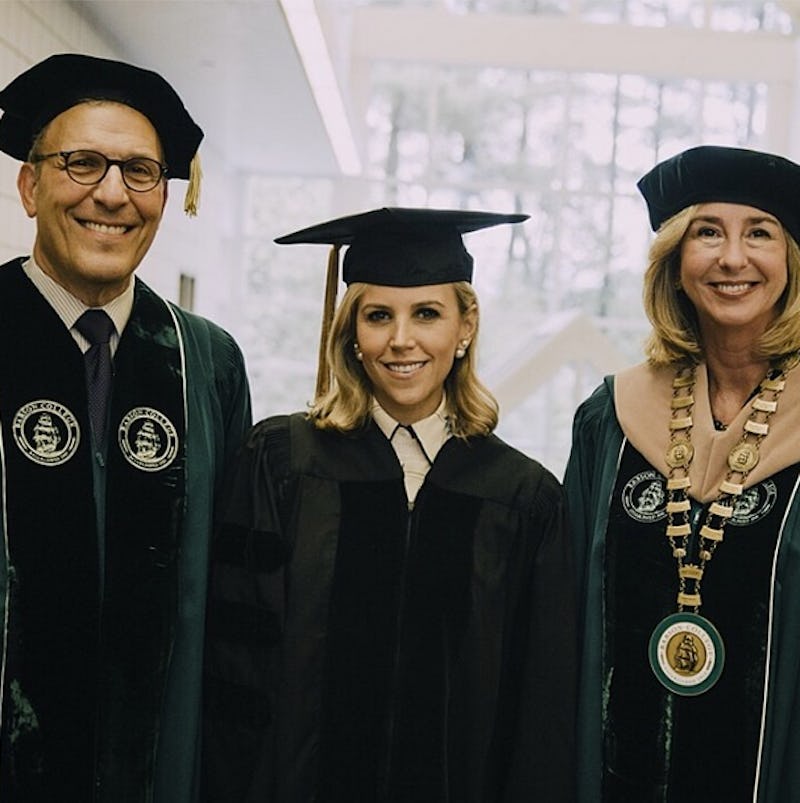 I can't recall who spoke at my graduation ceremony, but I'll tell you one thing — if it were Tory Burch, I might be running my own start-up right now. OK, maybe not quite, but the commencement address she gave at Babson College on Saturday was that inspiring. The fashion designer and CEO was invited to share some wise words with her "fellow entrepreneurs" on starting a business and winning at life and boy, did she kill it.
In her speech, Burch recalls growing up on a farm with three brothers and not knowing the first thing about fashion. She then shed light on how she stumbled into the industry and eventually, how she came to be the success story that she is. During the moving speech, Burch not only shared her journey to the top, but also imparted a lot of things she learned along the way. Here are five lessons Tory Burch wants you to remember about life.
Entrepreneurship is a State of Mind
Almost at the very beginning of her address, Burch reminds graduates that although the entrepreneur label is exciting, it's far more than just that."Being an entrepreneur isn't just a job title, and it isn't just about starting a company. It's a state of mind." She goes on to say that it's about being "entrepreneurial wherever you are and in whatever you do" and about being passionate about something that makes your heart race.
Dream Big. Like Really Big.
Burch believes life is too short for mediocre hopes and dreams. "If it doesn't scare you, you're probably not dreaming big enough."
There is No Such Thing as an Overnight Success
Although our generation is used to the idea of instant gratification, success doesn't have the same sort of short-cuts as everything else does. And while we might hear the word "overnight success" a lot in regards to start-ups and businesses, Burch calls the term "a myth that glosses over what being an entrepreneur is all about." She went on to quote Biz Stone, one of the founders of Twitter, saying, "Timing, perseverance, and ten years of really hard work will eventually make you look like an overnight success." Burch would later be called an "overnight success" despite all the years of hard work she put into her company.
Remember to Give Back
No matter how successful Tory Burch's brand became, she knew how important it was to give back to the community. "From the beginning, one of the reasons I wanted to start a company was to start a foundation. Social responsibility was always part of the business plan," Burch told graduates. In 2009 she would launch a foundation supporting the economic empowerment of women entrepreneurs and their families.
Negativity is Noise
Burch closed her speech by saying this: "One of the best pieces of advice I ever received from my parents is to think of negativity as noise. Believe in yourself and what you're doin." Which is also a fancy and more inspiring way of saying, "Haters gonna hate."
To read the full transcript of Burch's speech, click here. It's definitely worth a read!
Image: ToryBurch/Instagram