They Totally Nailed this 'Friends' Remake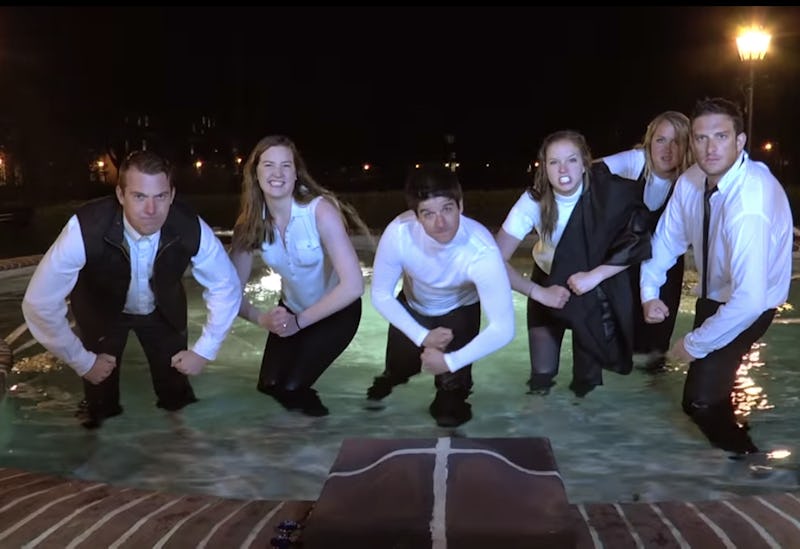 If we've learned anything in the past 10 Years that NBC's Friends has been off the air, it's that its opening sequence positive begs to be recreated on the regular. There's something about that iconic introduction, isn't there? Maybe it's all the terrible 90s fashion, the be-bopping dance moves, the seemingly unnecessary but colorful umbrellas, the water fountain antics, or maybe it's even that goddamn Rembrandts song.
Whatever that case may be, students from the University of Delaware cranked the impressiveness of video recreations up to eleven with their shot-for-shot remake of the opening credits to America's Favorite Television Show Maybe Ever as a teaser clip for the season finale of the student run comedy TV show, The Biweekly Show . Reenacting moments previously made famous by the likes of Jennifer Aniston, Courteney Cox, Lisa Kudrow, Matt LeBlanc, and David Schwimmer, the group of savvy students clearly went for broke.
UDel seniors Kaela Jeffers and Ben Evangelista produced and edited the clip which was directed by fellow Biweekly-ers Brook Kebede, Brad Wolak, Lauren Costello, and Gabriella Katz. In addition to Jeffers' work as producing editor, she also managed to pull Rachel re-do duty alongside Kathleen Deporter doing her best Phoebe, Kelly McKenna on that Monica tip, Phil Mirabella pulling out his best Joey, Scott VanAntwerp doing a shimmying Chandler, and Evangelista rockin' a total Ross.
Some things really do never die. Our collective Friends obsession is one of them.
Image: The Biweekly Show/Youtube