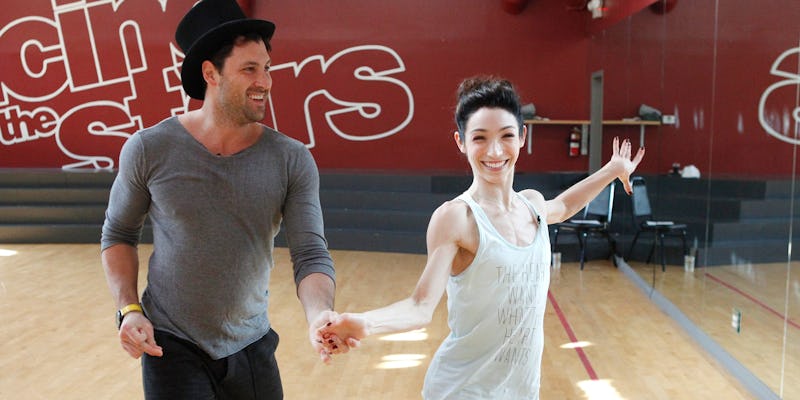 It happened! Meryl Davis and Maks Chmerkovskiy, celebrated dancers and source of intense journalistic interest to all the 'shippers here at Bustle, took home the Dancing with the Stars mirror ball trophy Tuesday night. Now, we could wax poetic about the dances that finally sealed their victory, the unique ways in which they edged out Amy Purdy and five-time champion Derek Hough. But come on — we've known since the premiere episode, basically, that they were going to take it all. Technical prowess. Tenacity. Sriracha-grade chemistry. They had it all from the start, only augmenting those elements each week, and now here we are. (Or here they are, if you feel we shouldn't include ourselves in this moment of triumph.)
Dancing with the Stars can be a difficult show to write about, especially for a guy like me who struggles weekly to find synonyms for "movement" and "energy." Two weeks in I'd already realized that I didn't have the vocabulary or even the focus to cover the, you know, dancing on the show. So it's fortuitous from a writing perspective to have a couple — however you want to define that! — like Meryl and Maks to look to, and craft stories around.
At the same time, I've gotta tell you what a strange mixture of feelings I've had writing multiple posts about the hypothetical love life of people I'll never meet. I'd honestly feel less weird had I written these posts with some degree of snark, or detachment. But no — I was actually enchanted by this "romance," smitten by the possibility that an exotic-looking Precious Moments doll come to life and her Beast at the end of Beauty and the Beast might actually be a real thing.
I think it was impossible not to, actually, unless your devotion to non-American ice dancing prevented you from ever rooting for Meryl in the first place. She and Maks have been F**KING ADORABLE together all season, a TV-perfect couple that rings so much truer because you can see it all unfolding in front of you. Maybe I'm too trusting, willfully ignorant to the "character arcs" and "storylines" that crop up even on reality programs... but dammit if these dancers' rehearsals didn't fill your heart, and their stage performances electrify your crotchal region. (Forgive me.)
This is likely the last post I'll write about Meryl Davis and Maks Chmerkovskiy for the rest of my life (probably good for my standing as a both a professional, and heterosexual dating prospect) so I want to say before I go: I really enjoyed it in a way I wasn't expecting. Like M&M themselves, thrust into a partnership neither one of them could have predicted would lead where it did, I was happy to learn a little something about myself this season. I hope you all feel the same way!
xoxo,
Henning
Image: ABC