13 Ways 'Ramona Quimby' Prepared Us for Adult Life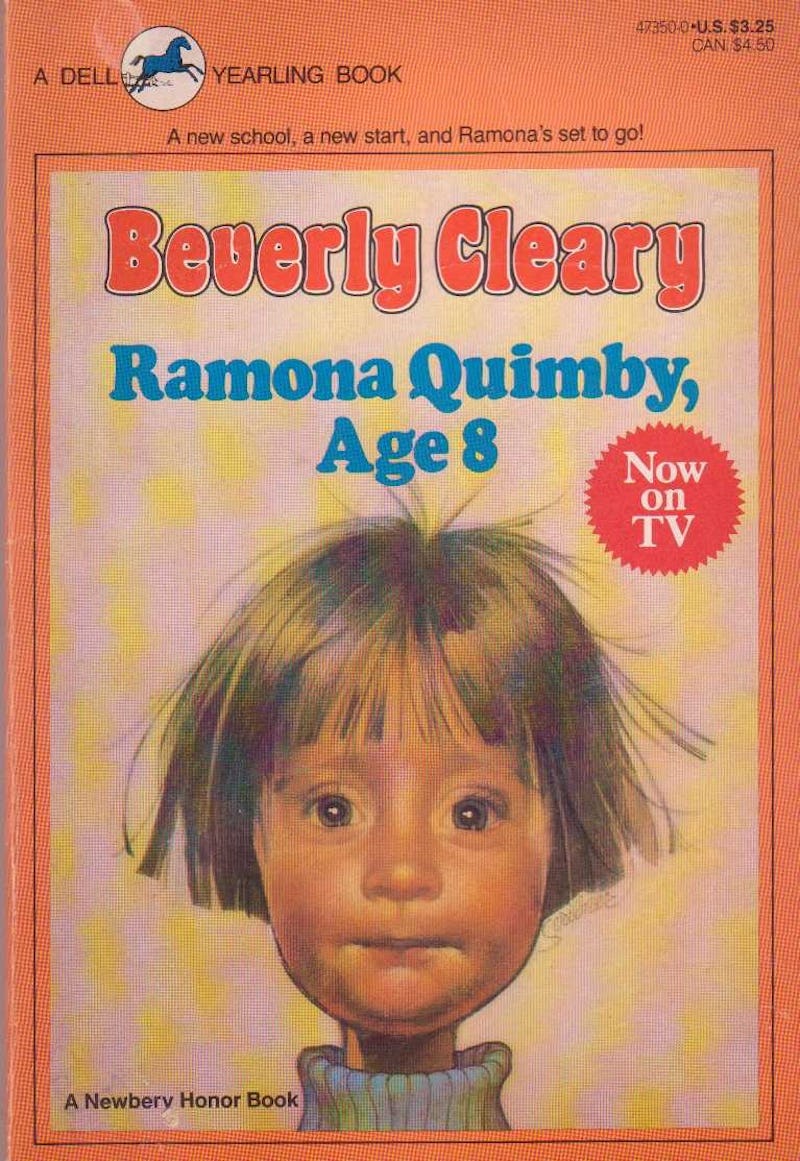 As anyone who grew up on a hearty diet of books and TV can attest to, life is filled with moments that remind one of fiction. (Sometimes the overlap is so intense that my life seems strangely like what would come of a collaboration between Judy Blume and Ilana Glazer.) In the course of any given day, I might feel like a dozen different characters, ranging in age from one of the Rugrats to one of the Golden Girls. Among the most resonant and recurring characters in my consciousness is the spunky Ramona Quimby. I grew up learning from the feisty heroine's mistakes and mischief.
Ramona first appeared as a 4-year-old runt in Beverley Cleary's Henry Huggins series. Cleary found that the little heroine was so ripe for stories, she ended up giving Ramona her own series. In the span of 8 books, starting with Ramona and Beezus, Ramona matures to become quite the complex little girl ­— for some readers, she may be the first female character with equal parts spunk and spirit, readying us for the heroines like Anna Karenina and Elizabeth Bennett we'd meet later in our reading lives.
Ramona's informed so much of how I grew up and helped me learn how (and how not) to be a pest, and so many of the lessons she learned are ones that prepared me for the real nitty-gritty details of adulthood. Whether it's practical stuff like how to eat a hardboiled egg or bigger questions such as how to behave when you're annoyed, Ramona pretty much set the tone for how I'd (or will) grow up to take on the world. So in gratitude to Ms. Cleary and in reverence to Ramona, let's review some of the lessons Ramona taught us about life:
Dreams of being rich from stardom will never die.
In Ramona and Her Father, Ramona plans to get big bucks from starring in TV ads. Replace "starring in TV ads" with "writing incredible stuff" and you have the exact formulation of 90 percent of my fantasies.
Think long and hard before you give something a name.
So, in Ramona's case, this applied to her doll, which she chose to name "Chevrolet" — but I will remember this when I inevitably consider "Chambray" or "Rooibos" for a new pet.
Don't put up with bullies on the street.
When Ramona throws a shoe at the huge dog who chases her on the street, she forever influenced my lack of patience for street harassers.
Sometimes you don't get the credit you deserve.
Susan, Ramona's nemesis, copies her paper-bag owl in a scene in Ramona the Brave, and then Mrs. Griggs compliments Susan's owl in front of the class. This "WHAT GIVES" feeling applies to many adult workplace scenario.
Clarify whether "right" means "correct" or "opposite of left."
Remember when Beezus gets the family lost on the way to Disney World? Classic!
Be sure you trust your haircutter.
Ramona definitely got lucky when the sisters go to a hair salon for the first time in Ramona and Her Mother: she got a cute pixie cut; Beezus, however, was stuck with a "forty-year-old" cut. Happens to the best of us, Beez.
Always check to be sure an egg is fully cooked before you prepare to eat it by breaking it on your head.
Because runny yolk in your hair is not what the trendy 3rd graders were going for. Which brings us to another lesson...
You just gotta be you, no matter what the consequences.
In Ramona and Her Mother, Ramona loves her pajamas so much she wears them under her clothes to school like a badass. It has totally inspired my all-linen work ensembles.
Stay curious.
If you see a curl of hair you really want to pull, just pull the hair. Worst case scenario, you sit out recess. Which can be kind of great.
Kiss every boy you want to.
In Ramona the Pest, Ramona literally chases the new kid Davy at recess, and eventually gets her much-desired kiss during the Halloween parade, which reminds me...
Never be afraid to be "the baddest witch in the world."
This just goes without saying. Stay pushy, witches.
Change is completely inevitable, and it's really hard and weird.
In Ramona Forever, Ramona's dealing with huge changes: the family cat dies, Mrs. Q is pregnant, Ramona's aunt is getting married... nothing ever freaking lasts, Ramona learns, but she's got to stay Ramona through it all. Forever.
Have a role model and be a role model.
Ramona is eventually the middle child, and she's lucky enough to both look up to Beezus (sometimes with confusion and irritation) and be the one Roberta Day will admire. This is a good lesson for all ye women and is pretty unavoidable in the professional world. Have and Be!