Something Weird's Going On With Velveeta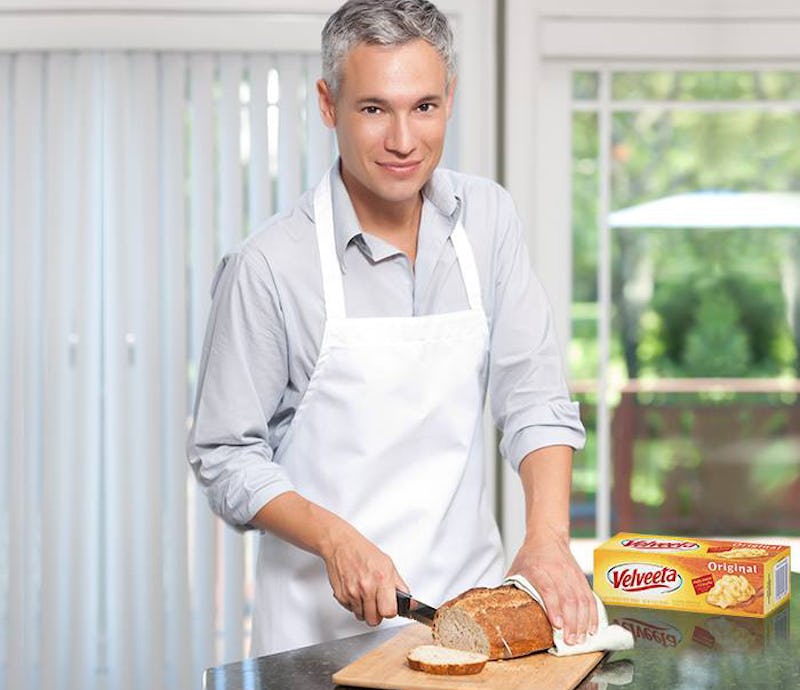 Something bizarre is happening on Velveeta's Twitter and Facebook accounts. It took the Internet a while to notice — because, really, who follows Velveeta on Twitter or Facebook? — but it appears that Kraft's purveyor of "liquid gold" has harnessed stock photos of a handsome, albeit unnerving, grey-haired man to promote their product. Now, this guy has nothing to do with Velveeta — the company has just Photoshopped the packaging onto the images. Oh, and they've accompanied these bizarre pictures with weirdly snarky captions, which we kinda love.
Seriously. What's going on, Velveeta?
Well, no-one's really sure. The first image appeared on May 9, offering a sarcastic Mother's Day message complete with a link to a recipe for how to make Velveeta Cheese Sauce Chocolate Dip (don't even get us started on that). This was followed up by the waxy (cheesy?) male model offering up a plate of quesadillas a day later, and then on Mother's Day itself, a recipe for grilled cheese.
But the action didn't stop after Mother's Day. Several days later Facebook users were treated to a shot of the model in bed with his model-wife, a block of Velveeta Photoshopped between them, and a link to "relationship tips."
BUT WAIT. It gets weirder. Velveeta started to respond to users' comments as though they were the grey-haired male model.
AND THEN the male model's actual wife in real life got in on the action. Oh, and it turns out his name's Tony Northrup and he's a photographer from Connecticut.
We are still none the wiser as to what the hell is going on here, but this is probably more social media action than Velveeta has seen in a long time. Still not up for trying one of those Cheesy Skillets though...
Images: Velveeta/Facebook