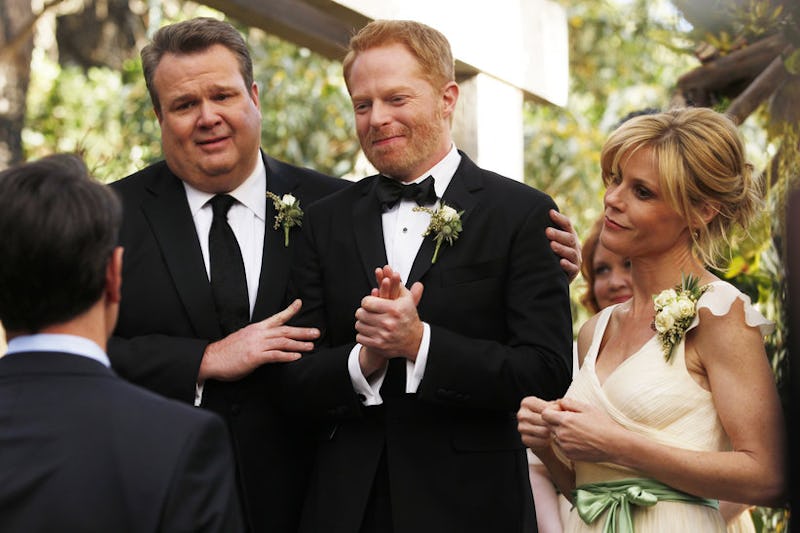 The second part of Modern Family's fifth season finale airs Wednesday night which means it's time for Mitch and Cam's wedding! Woohoo! We'll all get to laugh and then cry as though we we're actually at the wedding of two real friends and not just two fictional characters on a TV show. Modern Family is hilarious, but it also knows how to bring on the tear jerking moments and Mitch and Cam's wedding is sure to be one of them. Jesse Tyler Ferguson talked about the Modern Family wedding in a new interview and it sounds like we should definitely get our tissue boxes ready.
Ferguson told Entertainment Weekly,
The second episode continues on with that thread of pure chaos just trying to get this wedding to go off. But what I'm really proud of that you're going to see is the real emotion. The writers were really great with handling that moment of the actual wedding. They let Mitchell and Cam exchange vows. I'm sure they'll cut around a lot of it — that language can get a little dry at times — but for us, it was really beautiful to be able to say 'I do' to each other and to really have that moment of being married.
I have no doubt that this will be pulled off perfectly. The fact that the characters actually exchanged vows without interruption during filming is sure to add to the moment and sure to add to the tears on my throw pillows. Modern Family is great at providing a laugh and then, boom!, hitting you with serious emotion. We'll all be starring at our screens smiling, totally okay with the fact that smiling at a TV is weird, and then suddenly Mitch and Cam will say "I do" or have their first kiss and our feelings will switch in an instant.
Ferguson goes on to say that Mitch and Cam first dance was to Etta James' "At Last" during filming, but he's not sure if that song will end up in the final version. He also posted this lovely pic to Instagram:
Ahhh! Are you ready?!
As for what level of television crying this thing will bring on, that is yet to be determined. My current standard is The Office's "Casino Night" episode — I'm sure you have your own TV crying precedent — so Mitch and Cam have their work cut out for them. I've got a feeling they'll be able to reach that level.
Images: ABC; Jesse Tyler Ferguson/Instagram