And the 'Idol' Winner Is...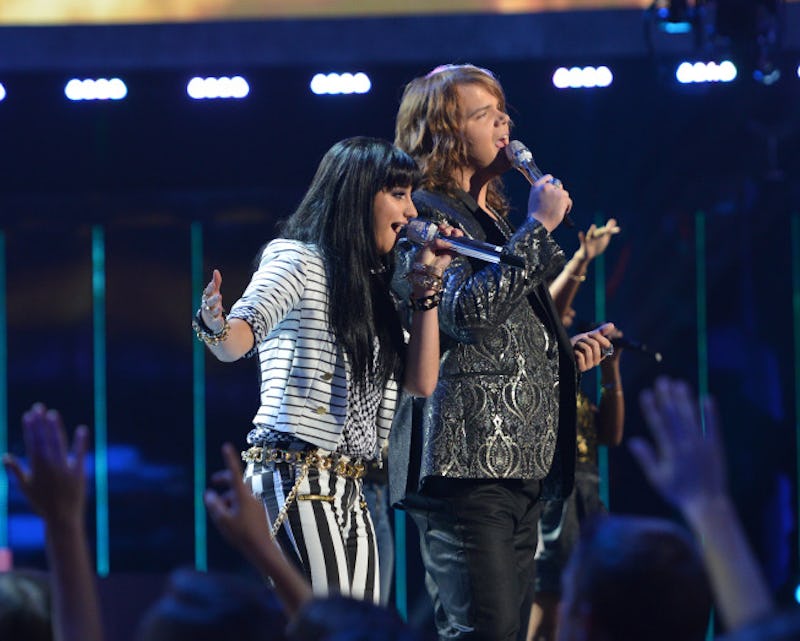 You had a tough choice, America. Which beloved American Idol contestant would you choose to make an album and possibly fade into obscurity, and which American Idol contestant would you choose to make an album and possibly fade into obscurity? Yes, okay, so, based on Idol history, the reality series' winner and runner-up typically both score album deals from big labels, making the whole race slightly less climactic than it was back in Season 1. But being named in the same sentence as previous winners Kelly Clarkson and Carrie Underwood is a prize itself, so you should have been invested, people! Especially in a race as close as American Idol Season 13's, which saw finalists Jena Irene and Caleb Johnson in a dead heat following the first part of the reality series' finale. But, following part two of American Idol's finale, who won a notable Wikipedia page and a confetti shower? Caleb Johnson was named Season 13's American Idol.
Which means we can now expect "As Long as You Love Me" to dominate (or at least try to dominate) our radio stations this summer. But will Caleb be more successful than, say, Season 12 victor Candice Glover, whose album was plagued with unfortunate delays, giving Glover the unfortunate title of Idol with the worst debut ever? Or will no Idol be able to match the prowess of Phillip Phillips' mega-hits "Home" and "Gone"? "As Long as You Love Me" has America's moms' support going for it, so that should certainly help matters. (So did the fact that Caleb warmed the country's hearts by eschewing his victory song in order to hug fellow contestants and supporters during Idol's — can you say awww?)
That said, Idol and new executive producer Per Blankens might want to market the hell out of Caleb's single — after all, the fate of Season 14 and all possible future seasons lies in Season 13's winner. Idol fans haven't coped with a one-two punch of failure since Season 2's Ruben Studdard and Season 3's Fantasia Barrino couldn't quite excite music lovers. If Season 12 and Season 13 both produce duds, will anyone get invested in Season 14, especially considering the show's waning popularity in recent years?
So, yes, Idol fans: This. Is. An Important American Idol win. But, for now, sit back, and soak in Season 14's winner before their debut album sales make or break them. You know what they say: Keep calm and watch So You Think You Can Dance.
Image: Michael Becker/FOX; thornsandwolves/Tumblr