You're Gonna Want to Watch 'The Normal Heart'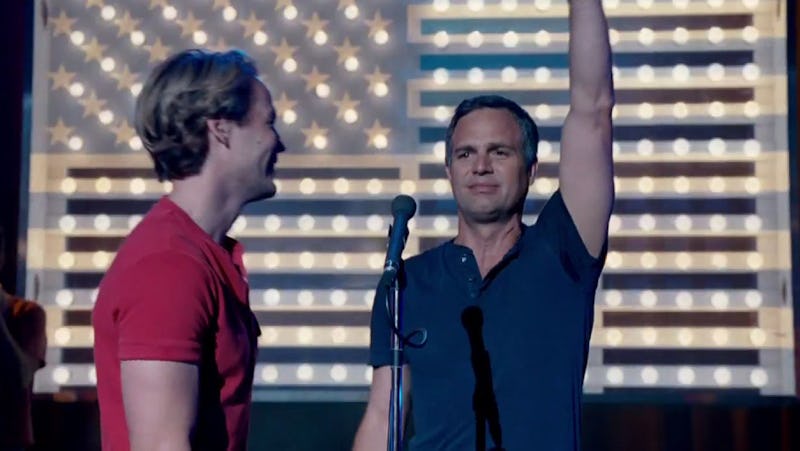 It's a hotly anticipated thing, the HBO Films adaptation of the Larry Kramer play , The Normal Heart . From its director (Ryan Murphy); to its cast (Mark Ruffalo, Matt Bomer, Taylor Kitsch, Jim Parsons, Julia Roberts, Alfred Molina, Joe Mantello, Jonathan Groff, Denis O'Hare, Stephen Spinella, Corey Stoll, Finn Wittrock, BD Wong); to its subject matter (the rise of the AIDS epidemic in New York City in the early 80s), there's not much that isn't riveting about it all. And in these three new clips released today, you'll get an even greater glimpse inside of it (apart from that gut-wrenching trailer), ensuring your desire to see this film grows stronger still.
Based semi-autobiographically on Kramer himself, The Normal Heart is the story of writer Ned Weeks (Ruffalo) as he struggles to pull together an organization focused on raising awareness about the unidentified disease killing off gay men largely in New York City. With the help of Dr. Emma Brookner (Roberts), a wheelchair-bound physician and polio survivor who was at the time most experienced with this strange new outbreak, Weeks and several friends and colleagues join forces to gain greater insight into this unknown illness and bring awareness to it on a much larger scale.
Anger and outrage permeate the three clips below, proving our suspicions that this one is going to be a performance of the ages for Ruffalo and his counterparts. Given that the subject matter is so personal to a cast and crew made up of many a gay man, the passion for the material and these people's crusade is sure to shine through in the work that they do. May 25th at 9PM cannot come soon enough, we think.
Image: HBO Films