10 Picnic Baskets You Didn't Know You Needed Until Now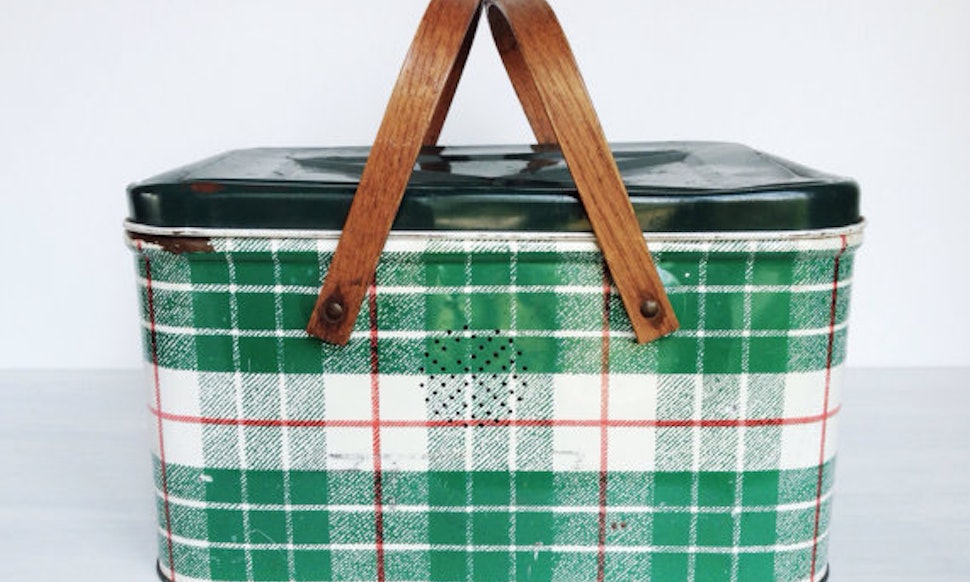 At the start of every summer, I envision a season packed with picnics — sparkling wine in plastic cups, perfectly wrapped paninis, perfectly packed picnic baskets, the works. I always think arranging a little outdoor dining session with my friends sounds like a great idea, but every year fall comes and I never made it happen. Perhaps it's fear of soggy sandwiches holding me back! More likely it's just laziness...and a lack of the perfect picnic supplies, of course.
Aside from finding an amazing venue for the event, there are a few picnic essentials you'll need — gingham blankets, cute dresses, an ant colony, and, of course, an awesome picnic basket. Here are 10 so cool you're practically required to throw a picnic now.
wicker picnic basket
This is your standard picnic basket (brace yourself, the coming baskets are intense), complete with an adorable lining and enough room for food, plates, and good times.
Wicker Picnic Basket, $24, Etsy
blue wicker basket
This basket does all the things you'd need your basket to do while also being among the most Instagram-worthy versions out there.
Blue Wicker Basket, $50, Etsy
tin basket
If you prefer a tin basket over a standard wicker one, you might as well go for this adorable red, white, and green version.
Tin Basket, $35, Etsy
charming basket
This is called the "charming basket" and it's not hard to tell why. Just imagine how awesome it would be to carry this cutie through the park.
Charming Basket, $26, Etsy
woven basket with 11 piece set
If you are looking for an all-inclusive basket, check out this 11-piece set and get your basket and utensils all at once!
Woven Basket with 11-Piece Set, $50, Target
woven multicolor basket
This woven multi-color basket is totally affordable and will add fun pops of color to your afternoon spread.
Woven Multi-Color Basket, $15, Target
wine basket
This basket is for the wino in all of us — it even comes with a small board to place over the basket so you can enjoy your wine and cheese on a flat surface.
Wine Basket, $100, Target
picnic basket tablecloth weights
As adorable as this is, it's not a real picnic basket — it's an adorable tablecloth weight, and you probably need to own it.
Picnic Basket Tablecloth Weights (set of 4), $30, Bed Bath and Beyond
rolling basket
I never liked the kids who had rolling backpacks but I am ready to forgive them if they were secretly hiding these picnic goodies in their bags all along.
Rolling Basket, $150, Bed Bath and Beyond
windsor picnic basket
If you are rich and go on picnics (as the rich commonly do) then you've got to treat yourself to this one, complete with a dining set and a blanket adorably strapped onto the basket's lid.
Windsor Basket, $350, Target