Nope, You Can't Be "Happy" In Iran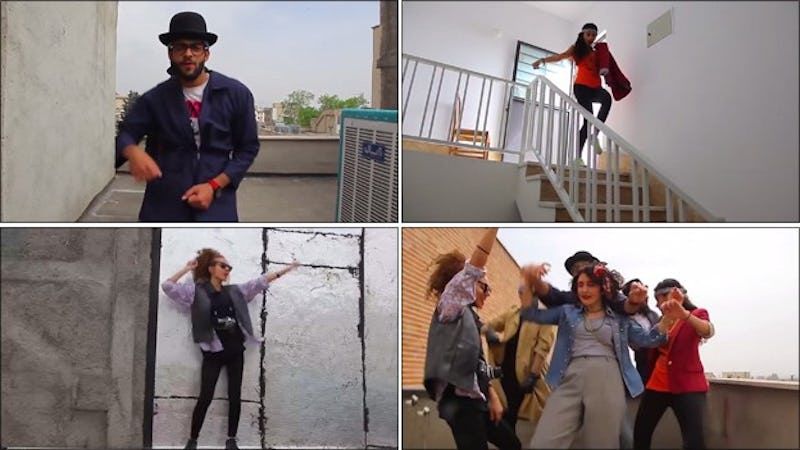 A day after the detention of a group of Iranians caused a social media frenzy, the six young Iranians arrested for making a "Happy" video were released — but not before the women were allegedly subjected to squatting naked in a prison cell. The group's arrest sparked outrage on multiple fronts, with everyone from Pharrell to President Hassan Rouhani himself (confusingly) tweeting support for the arrested youths.
The six young people were arrested earlier this week after posting a video, filmed on an iPhone, called "Happy in Tehran," based on the Pharrell Williams song "Happy." The clip apparently "hurt public chastity" by showing the young men and veil-less women dancing around together — but it also went viral, gathering over 165,000 views on YouTube before being removed from the site.
Authorities tracked down the "Happy" Iranians, forced them to repent on state television, and took them to jail. The move caused an almost immediate social media backlash, with Twitter users using the hashtag #freehappyiranians to call for their release.
Late Wednesday, all but the director were released, according to a tweet from the International Campaign for Human Rights in Iran. It remains unclear what charges the arrested people faced, but several news sources suggest that the most were let go on on a hefty bail. IranWire reports that one of girls was released only after her family paid a bail of over $10,000, and not before "security forces allegedly threatened the families of those arrested that if they spoke to any media about the detentions, their children would not be released."
During the three days that they were incarcerated, the "Happy" group reportedly faced abhorrent conditions and treatment. Moved into solitary confinement after the first day and denied access to toilet facilities, the group was reportedly questioned about "Happy in Tehran" repeatedly. Most shockingly, though, the females were reportedly made to get completely undressed and do squats in front of policewomen — for what reason, it's not clear.
In spite of the authorities' harsh conduct toward the six dancers, not everyone in Iran seemed to support their detention. In fact, hours before they were let go, President Rouhani seemed to directly address the arrest via Twitter, saying: "#Happiness is our people's right. We shouldn't be too hard on behavior caused by joy." The moderate President has been at odds with the country's judiciary for most of the week, arguing for the importance of the internet and Tweeting "Why don't we trust our youth?" on Monday.
"We're finally released after three days in prison. We're waiting for the court date. Thanks a lot for caring about us," one member of the group wrote on Instagram, according to IranWire. The video "Happy in Tehran" ends with credits that read: "Happy was an excuse to be happy. We enjoyed every second of making it. Hope it puts a smile on your face."
Image: BBC/YouTube