Witness the Drum-Off of the Century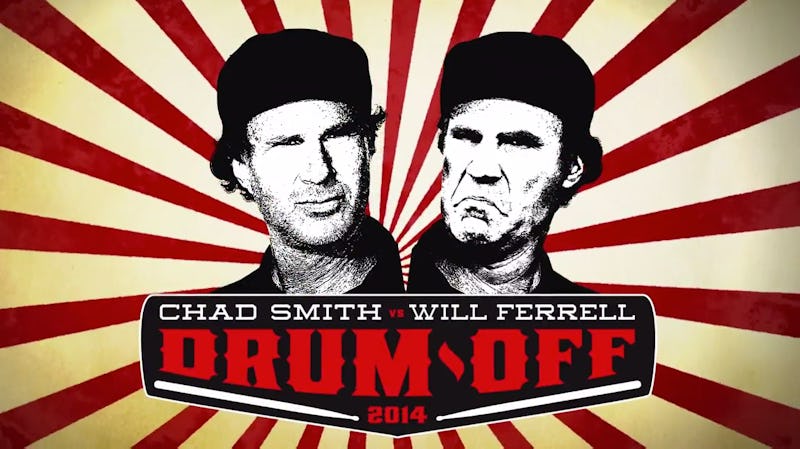 After months of waiting and build up, months of mockery and teasing, months of guesses and making bets, the infamous drum-off between Will Ferrell and his celebrity lookalike Chad Smith has finally happened. Will Ferrell and Red Hot Chili Peppers drummer Chad Smith are frequently mistaken for one another in appearance, but are their drumming skills equal as well? The world was dying to know. And on Thursday's Tonight Show episode Smith and Ferrell finally had the drum-off to end all drum-offs... and Ferrell won.
If you're gaping at the screen in shock at that news, please remember that Ferrell has had practically a whole lifetime of being mistaken for Chad Smith. It's not enough that he just look like him — or, in the case of his Tonight Show appearance, dress like him — but he also had to be cursed with insanely good drumming ability as well. Only a week ago, Smith was saying, "Unless Will's been practicing or is secretly a crazy, wild drummer, I think it'll be evident right off the bat who the real Chad Smith is."
Well, apparently the real Chad Smith is Will Ferrell. Clearly this means that the Red Hot Chili Peppers will be changing their line-up, unless they plan to adopt the new title of "Lukewarm Chili Peppers" that Ferrell bestowed on them during the competition. Then again, the drum-off was interrupted by the Red Hot Chili Peppers themselves performing "Don't Fear the Reaper" and Chad Smith might have proved during the performance that he deserves to be the Real Chad Smith.
Since Ferrell is the one who went home with the prize, however, Smith will just have to settle for being the Fake Chad Smith or, you know, being Will Ferrell. Unless of course Ferrell decides to stick with the cowbell rather than the drums, in which case Smith's title is safe. For now.
Watch the drum off below.
Image: The Tonight Show/NBC