This Woman Should Be Everyone's Role Model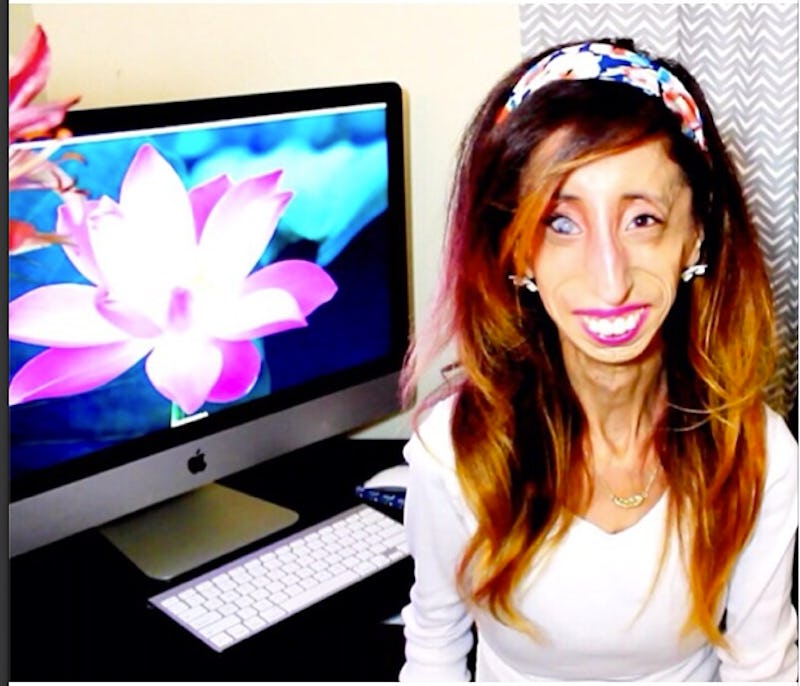 Lizzie Velasquez, a 23-year-old woman from Texas, was born without any adipose tissue — meaning she has no fat on her body. Best known for the influential TED Talk she gave in December, is setting out to create The Lizzie Project, a Kickstarter documentary based on Velasquez' life. Velasquez weights about 58 lbs, despite eating as many as 60 times per day. She didn't know she was different until her first day of kindergarten when her fellow classmates refused to play with her, but ever since, Velasquez has stayed strong.
Through a Kickstarter campaign, she's been raising money for the project, tentatively named The Lizzie Project, which has already collected more than $127,000 in donations. The campaign ends May 31, and Velasquez's goal is $180,000, reports the AP.
"It's not easy, I will be the first to tell you it's not easy," Velasquez told Dr. Drew in an interview in 2012. "I may have this outer exterior of people saying, 'She can handle everything, she's dealt with this for so long,' and to be honest, I'm human and of course these things are going to hurt."
Velasquez's condition, which is so rare that only two other people in the world are known to have it, has left her blind in one eye and an inability to weight more than 60 lbs. In her TED Talk, Velasquez said her life changed when she discovered a video of herself on YouTube when she was 17 years old, titled "The World's Ugliest Woman." According to the AP, some of the comments featured lines such as "Do the world a favor and put a gun to your head."
In the years since, Velasquez has graduated from Texas State University—San Marcos, and has written three self-help books, the third of which will be released in August. She has thousands of followers on Twitter, Instagram, and YouTube.
She's been campaigning for her film since the beginning of May — she's even been making stops at Yahoo! and posting videos of Katie Couric, Kristen Bell, and Hilary Duff showing their support.
This movie could be an incredibly influential anti-bullying movie, with the producers of Velasquez's TED Talk working behind the scenes. The documentary will prove "there is life on the other side of bullying and that self-worth and compassion are essential along the way," according to the project's website. And The Lizzie Project has something other anti-bullying documentaries don't have: Lizzie. She's adored by people everywhere because she's positive and real. She represents what everyone wants to be: strong and mature, yet compassionate and sympathetic.
Image: Lizzie Velasquez/Instagram