5 Ways To Get Thicker, Longer Eyelashes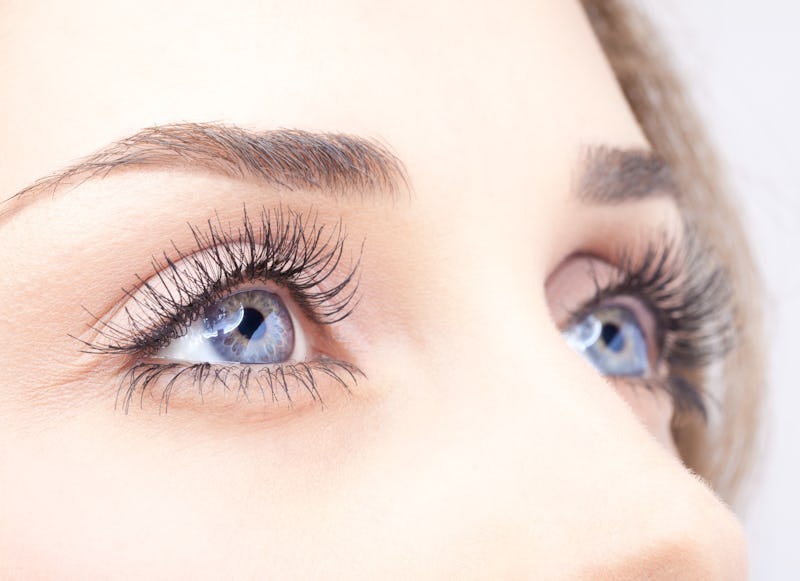 You might think the easiest way to bat some dynamite lash would be to stick some falsies on your eyelids, but newsflash: They can be damaging when worn long term. Working on strengthening your own lashes is a far better long-term strategy.
Like hair, your eyelashes work on a growing, resting and shedding cycle, "anywhere from six to 11 months, depending on the individual," says Maryland-based dermatologist Lawrence Green. "The growing phase lasts for a month or two, while the non-growing phases can last from four to nine months."
If your lashes are prone to being short, thin, and shedding, here's how to extend your growth cycle and rev them right up:
Watch Your Diet
"Nutritionally deficient diets can adversely affect anything in the body, including eyelash growth," Green says. Check out our guide to foods to eat for amazing hair, which applies to lashes too.
Take The Proper Care
"The most common cause of eyelash loss is wearing mascara for too long or not taking mascara off properly," says Green. "Mascara should be removed every night and never left on overnight." Eyelashes are gentle and easier to pull out than your hair, so going to sleep with makeup-free lashes will ensure they are prime for growth.
Try: Garnier Skin Active Micellar Cleansing Water Makeup Remover, $7, Amazon
Use The Right Type Of Mascara
Green recommends women apply good quality, non-generic mascaras "with conditioners, if possible, and avoid waterproof mascara." Try a coat of Jane Iredale Lash Extender and Conditioner before applying mascara for thicker, stronger lashes.
Jane Iredale Lash Extender and Conditioner, $19, Amazon
How You Remove Makeup Is Important
"Water-based makeup removers can be used for mascara removal, but I prefer people to use baby shampoo diluted with water," says Green. An oil-based product like baby shampoo is gentle on the eyes and will ensure you get every trace off.
Try: Aquaphor Gentle Wash & Baby Shampoo, $7.99, Amazon
Use A Specialized Product
Letting your lashes grow naturally is one thing, but there is a way to give a helping hand: "The only FDA approved way of really growing lashes is with Latisse, a prescription product most often sold at dermatologist's offices," says Green. "It's said to work by prolonging the growing phase of your lashes, so they can continue lengthening longer than they would otherwise." Since the growth phase of the lash cycle takes a few months already, he suggests giving Latisse at least four months of daily use in order to see results.
While there have been reports of pigmentation side effects for some users, Green (who has conducted independent clinical trials on the product) says that if applied properly, it is safe to use. "It is important to apply it only to the lashes and not let it fall or drip onto your eyelid skin," he says. "Your dermatologist who sells or prescribes it to you can go over the best way to apply it to avoid this occurring."
© Serg Zastavkin - Fotolia.com