What Beloved Drama Did the TCA Awards Shut Out?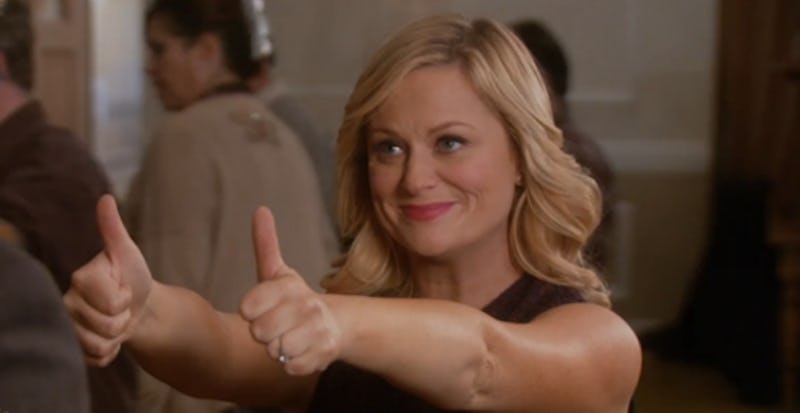 By now, fans of Parks and Recreation have gotten used to their beloved show being overlooked by most awards shows, save for the rare Emmy nomination or Amy Poehler Golden Globe win. Although the series is loved by critics, awards shows tend to ignore it, instead favoring broader-appealing comedies like Modern Family or The Big Bang Theory. Not the TCA Awards, though. Year after year, the Television Critics Assocation have honored oft-overlooked shows like Parks & Rec, Parenthood, and Bates Motel when other award shows haven't, and 2014's honorees are no exception. On Tuesday, the competition once again proved that it rules, with TCA Award nominations for Parks , Orange is the New Black , Orphan Black 's Tatiana Maslany, and more of the best, most underrated shows and actors currently on TV.
For Program of the Year, the TCA Awards' most prestigious category, Breaking Bad, Game of Thrones, The Good Wife, OITNB, and True Detective have been honored. Drama nominees include The Americans and House of Cards, while the Comedy category consists of Veep and Brooklyn Nine-Nine, among other beloved shows.
In acting, expected Drama honorees like Bad's Bryan Cranston and The Good Wife's Julianna Margulies join Orphan Black's Maslany, True Detective's Matthew McConaughey, and The Americans Matthew Rhys. The Comedy line-up is just as fantastic, with Julia Louis-Dreyfus competing against Mindy Kaling, Louis C.K., Amy Poehler and Jim Parsons.
The smaller categories are equally great. The Miniseries/Special race features Fargo and The Returned, and Youth Programming gives love to the underrated Adventure Time and The Fosters. Even cancelled shows that were overlooked during their runs will have a chance to be honored; Lost, Twin Peaks, and more missed series are recipients of the Heritage Award.
Nearly all of the nominations are worth celebrating, as the TCA Awards have once again proven themselves to be the sole awards show that honors TV's best series and performers, regardless of their ratings. Surprisingly, however, one big show didn't make the cut — Mad Men, which has previously been honored for Best Drama Series, Program of the Year, and Outstanding New Program.
Mad Men's shut-out is a shock, especially considering the high quality of the series' last few episodes. A closer look at the TCA Awards' nominating system, however might explain the absence; voting members are only allowed to pick two nominees per category, and Mad Men's best episodes this season aired after most critics had already cast their votes.
Even with that series' snub, though, this year's TCA nominees are pretty much the best picks a TV fan could hope for. Sure, it might not be quite as prestigious as the Emmys or the Golden Globes, but for underrated series and actors, there's no place more likely to give them the recognition they deserve than the TCA Awards. And for fans, getting to see people like Amy Poehler and Tatiana Maslany finally getting acknowledged for their incredible performances is as good as it gets.
The 30th Annual TCA Awards will be held July 19. Check out the full list of nominees here.
Image: NBC