No Models Necessary For This Campaign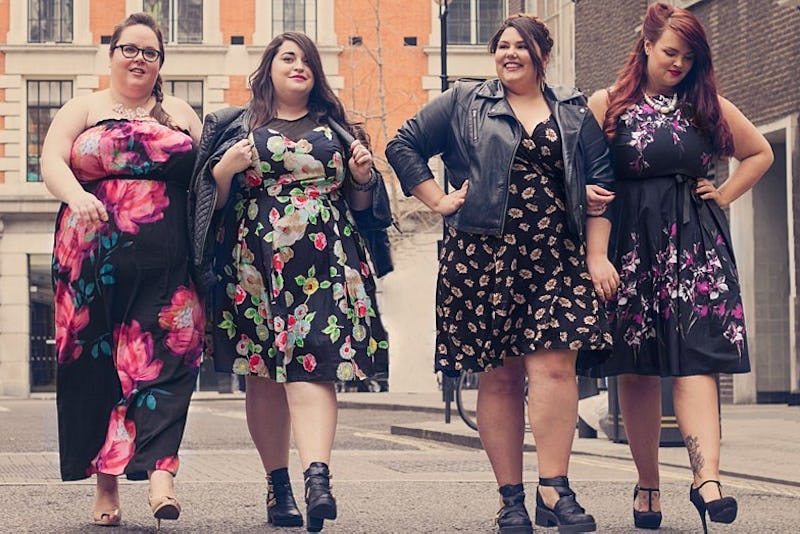 Scarlett & Jo, an exclusive line sold by plus-size retailer Evans, has launched its latest collection: Summer Romance. Since February's British Plus-Size Fashion Weekend, we've seen Evans take things up a notch with wilder patterns and a younger feel, and this collection stays true to that re-vamping. With floral prints that manage to perfectly mesh a glam vintage aesthetic with a modern chicness, there is no dress that is undesirable. But what has been even more special about this unveiling is the brand's decision to use four plus-size bloggers for their advertising, as opposed to standard curve models.
When mainstream modeling still fails to cater to women of all sizes, it's up to the brands themselves to do something about it. Callie Thorpe, Georgina Horne, Danielle Vanier, and Hanna Suhonen are leading plus-size bloggers in the U.K., and their passion for not just fashion, but also the promotion of self esteem amongst their readers, and amongst women (and men for that matter) as a whole, radiate through in every photo to innately personal, genuine and fun degrees.
Callie Thorpe of From the Corners of the Curve:
Georgina Horne of Fuller Figure Fuller Bust:
Danielle Vanier of Danielle Vanier:
Hanna Suhonen of The Wardrobe Challenge:
Even in the world of professional plus-size modeling, a certain height, body type and overall look is generally favored. Ultimately, it can be difficult to really see yourself in the clothing a standard model of a completely different body type to your own is wearing, no matter how talented and beautiful she may be. And there's no way that, in the end, this isn't detrimental to the retailers hoping to attract buyers and repeat customers.
While each of these bloggers is stunning, they are also individuals, with unique styles and varying figures. To see the way clothing looks on a person not so different to yourself physically paints a far more accurate picture of what you will look like if you too choose to purchase those clothes. And these things are beneficial not just for shopping purposes, but for inherent confidence.
All women are real women, and to say these four ladies are any more real than a pro model would be unfair. However, the average woman in America is a size 16, but there still aren't many brands out there showcasing models of that size or above in their advertisements. The few that do, such as Domino Dollhouse and Re/Dress NYC, unfortunately tend to go unnoticed because they're smaller companies. So to see a commonly recognized line sold by a prominent plus-size retailer is something special. Scarlett & Jo have brought women passionate about body confidence and size acceptance to the forefront, and proved to any sceptic that there is beauty in the fuller-figure.