This 2002 Classic's Getting A Sequel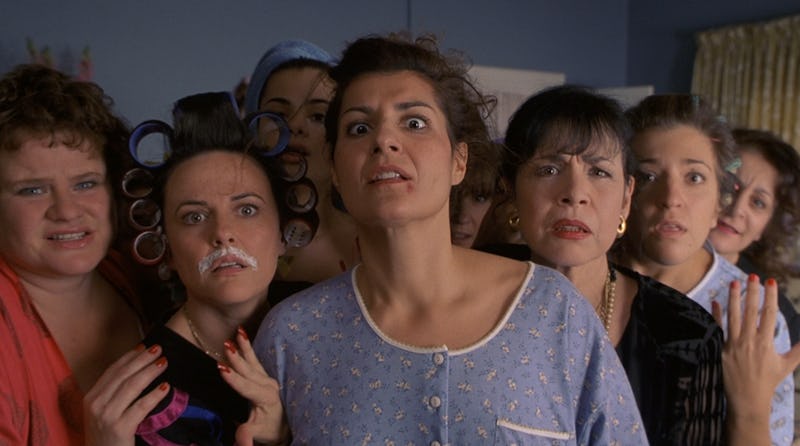 It's been over a decade since a bunch of very loud Greek people wooed John Corbett and made some seriously impressive box office bank. In Hollywood terms, that means it's about time for another. At least according to Nia Vardalos, who's writing a My Big Fat Greek Wedding Sequel . And yes, John Corbett's already agreed to return as her co-star.
This news comes confirmed by The Wrap, and given the mass success of the first one — it was an indie film that brought in $386 million worldwide, which is pretty good — it's really no surprise that HBO and Gold Circle would bite at the opportunity for a second. According to a statement from Vardalos, her muse striking also had a little bit to do with it:
Now that I'm experiencing motherhood, I'm ready to write the next chapter of my family story. Of course a few jaded folks in the press corps will claim I ran out of money or just want to kiss John Corbett again. One of these things is true.
Legit.
Of course, we got our happy ending at the end of the first movie: Vardalos and Corbett's characters got hitched and we got a flash-forward to their kid's childhood. Given it's been twelve years since the original and Vardalos claims motherhood is a major influence on this next one, it's probably a safe bet to assume we'll be seeing their daughter (along with whatever other kids they've cooked up) in the tweenage or teenage era of her life — perhaps grappling with her own Greek heritage — and get to see how Corbett's character assimilated in the long run.
Another fun fact? Tom Hanks and Rita Wilson are producing this sequel, so there's a whole lot of beloved going on with this one.
Image: Playtone