Porn Star Runs Against Rob Ford For Mayor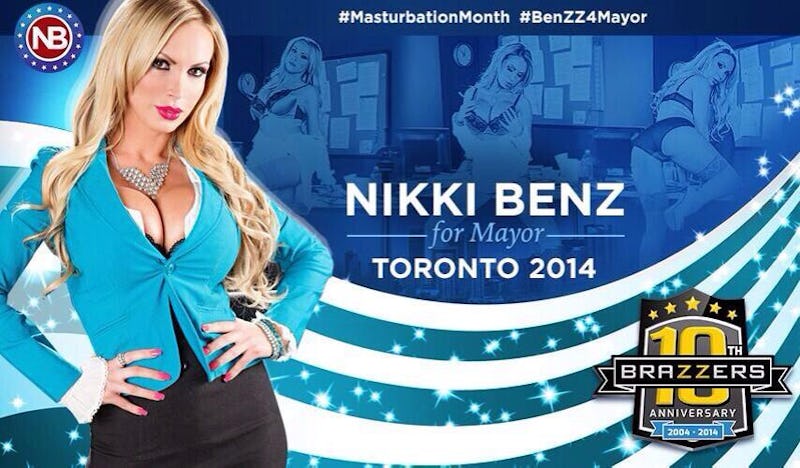 Because Toronto wasn't getting enough attention for the whole Rob Ford thing, the city's hogging the spotlight once more with its latest mayoral candidate. Adult film star Nikki Benz will run against Rob Ford for Toronto mayor, and has vowed to register at noon Wednesday. If "sex, drugs, and rock and roll" has become Toronto's motto, then all it needs to perfect the trifecta is for someone from Rush to join the race. (Neil Peart, are you listening?) For now, Benz will shake things up as she tries to take the title from the incumbent.
But how does Benz stack up to the notorious crack-smoking mayor? First, a little background information on Ms. Benz. She's from Ford's hometown of Etobicoke, in western Toronto. Before becoming a well-known name in the porn industry, she planned on attending law school at York University, and started stripping to raise tuition money. By the time she was 21, she was an adult film actress with Pleasure Productions. In 2011, she was Penthouse magazine's Pet of the Year, which is the publication's highest honor.
Benz has ambitions beyond the industry: Currently, she runs her own company, Nikki Benz, Inc., and produces content for both her own site as well as Brazzers productions. So we know she has a mind for business, but what else do we know about her platform? And does it compare to Ford's? Well, first of all, her slogan is brilliant: "Trade in your Ford for a Benz." If I were a citizen of Toronto, that might be enough for me to vote for her right there.
Let's take a look at how the two compare, starting with Benz's campaign video, which is basically a smorgasbord of sexual innuendos.
Nikki Benz For Mayor
She is running because she loves her hometown of Toronto, she said.
On the issue of public transit, she believes that Torontonians deserve a "smooth and easy ride, encouraging us to get on and get off as we please." She proposes to turn the city's light rail into the "Brazzers Pleasure Rail," which would come equipped with vibrating seats and sex toys. And if that doesn't pan out, she says she would fast-track the Downtown Relief Line.
She wants to make National Masturbation Day a civic holiday because "orgasms make for happy, healthy people."
She wants to help Toronto make money by expanding the adult film industry there. "My industry is one of the biggest in the world," she told the Toronto Sun . "It could do for Toronto what it's done for L.A. in jobs, business, and taxes."
She supports gay rights and wants Toronto to be "an open-minded city promoting equality year-round."
She emphasizes transparency and honesty.
She doesn't smoke crack cocaine.
Rob Ford For Mayor
Images: Twitter/Nikki Benz